There are many driving license theory test questions you should know as a learner driver. In most cases, before you are given a driving license, you need to past a theory test which has multiple questions. An example of these questions is "which vehicles are allowed to enter the environmental zone marked in this way"? This post has answers to most of the driving license theory test questions, including the above question.
German Driving License Topics
As you prepare for your driving license theory test, make sure you understand questions related to the topics below:
Behavior in traffic
Danger doctrine
Traffic signs
Environmental Protection
Rules on the operation of the vehicles
Technology
Qualification and ability of truck drivers
Which Vehicles Are Allowed To Enter The Environmental Zone Marked In This Way?
Ok, this question has three answer options and you need to choose only the appropriate answer (s).
Question: "which vehicles are allowed to enter the environmental zone marked in this way"?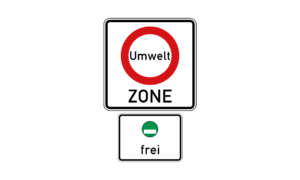 Answer:
Motor vehicles with a green fine dust sticker
Motorcycles
Explanation: You can answer the above question by carefully observing the illustration in the sign post (diagram or picture) above. This is where a traffic ban starts to minimize harmful air pollution in a zone. With the answer Option 1; You can get in here with a green sticker. Also, with answer Option 2; Motorcycles are left off from the regulations of the low emission zone and are permitted to drive without limitations.
More German Driving Theory Test Questions With Their Answers
Go through the related German driving theory test questions below. We have provided their respective answers as well. Check our other posts for more questions.
1. Why are short journeys with a cold engine particularly harmful to the environment?
Answer: More fuel is consumed, and also the material wear is greater.
2. What causes avoidable noise?
Answer: By honking as a greeting, and also by slamming doors violently.
3. What manufacturer information can you use to determine whether your vehicle is environmentally friendly?
Answer: About fuel consumption, then to efficiency class, and lastly to the emission class.
4. Why does Eco-Roll mode help reduce fuel consumption in commercial vehicles?
Answer: The kinetic energy of the vehicle is used to its maximum.
5. What can you do to avoid unnecessary noise?
Answer: Avoid high engine speeds, also do not change the intake and exhaust system.