Rice and stew is easy to prepare. It is cooked mostly by the method of boiling.
There are various kinds of rice. We have local or ordinary rice, long grain, biryani and basmati rice.
Not knowing how your preferred rice behaves or likes to make a good one can be a great mess.
Sometimes some rice needs a little water to cook it or some prefer more water.
Different ingredients are put together to make the stew. In this post, I'll be teaching you how to prepare plain rice with chicken or meat tomato stew.
Now let's start with how to Prepare plain rice and stew, which is the easiest.
How To Prepare Plain Rice and Stew » Ghana Insider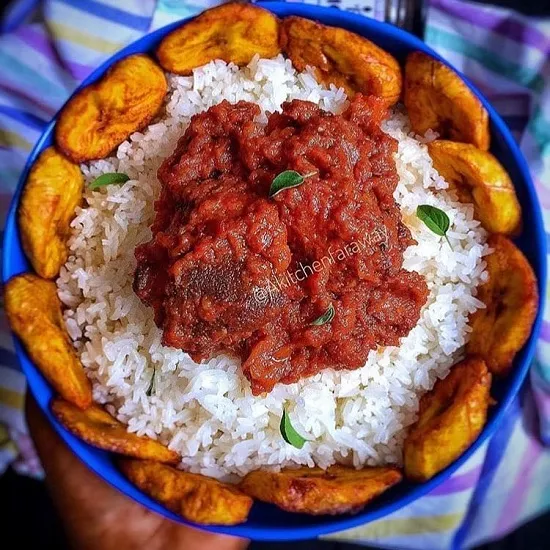 How to prepare plain rice and stew. Step by step instructions. Follow and read more HERE. Chicken stew, meat stew, fish stew, and more.
Type: STEW
Cuisine: AFRICAN
Keywords: PLAIN RICE, RICE, STEW
Recipe Yield: 4
Calories: 321
Preparation Time: 15M
Cooking Time: 45M
Total Time: 1H
Recipe Video Name: Plain Rice and Stew
Recipe Video Description: Rice and stew is the favorite in most homes in Ghana. I can even say; when people are wondering what to cook for supper, with severaloptions, they finally settle on rice and stew.
Recipe Ingredients:
fresh tomatoes
tomato paste
medium-sized onions
garlic
Recipe Instructions:
Preparing the chicken stew:
  Steam your meat for about 10-15 minutes.
As that is ongoing, blend your fresh tomatoes, pepper, and garlic.
Put a reasonable amount to oil in a sauce pan and place it onfire.
Fry your steamed chicken or meat and set it aside.
Allow the oil to heat and add chopped onions into it to fry.(you can use the oil used in frying the chicken for your stew).
After some few seconds, put in your tomato paste and stir.Let it cook till the color is changed.
Pour the blended tomatoes, ginger, garlic, pepper into the content in the sauce pan and stir.
After some few minutes, add your curry powder and tumeric powder for a nice taste and aroma.
Cover it with lid and allow it to cook. But make sure you stir it frequently so that it wouldn't harden under the suauce pan.
After some minutes, add your chicken or meat broth and stir.
After, taste for salt. If it needs some extra salt, then do just that.
Add a number of chili pepper to your
Allow the stew to cook for about 10 minutes (don't forget to be stirring).
Finally add the fried chicken and stir. Do that under a very low heat, because at this point the stew is ready, but you only want the chicken or meat to mingle.