Are you planning to get married the African way? Or making preparations for a colourful traditional wedding? Then this is the right place to be. 
White weddings are trendy, but sometimes others want to take a different route to make their marriage ceremony unique by going the colourful traditional way.
But getting that perfect Kente wedding gown that will match the occasion sometimes becomes a problem. That is why we at Ghana Insider has taken it upon ourselves to make sure you don't go through such stress. 
In this post, we will be taking you through some of the current trending Kente wedding gowns on the market and their prices with a list of fashion designers that have what it takes to make them just like the one you saw in your dreams. 
Kente Wedding Gown Styles In Ghana
Thanks to the many innovative fashion designers in Ghana, Kente wedding gowns come in various styles. 
If you are planning to look amazing on your special day, then below are some of the few designs you can check out.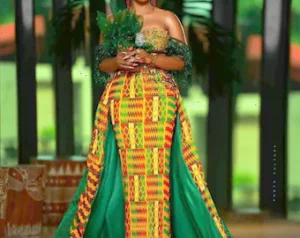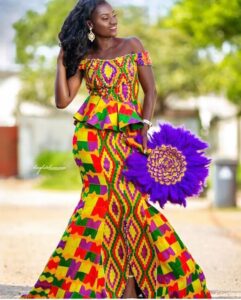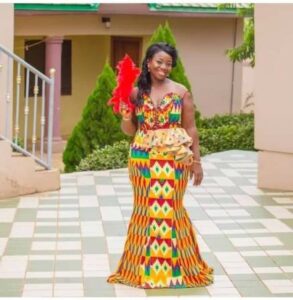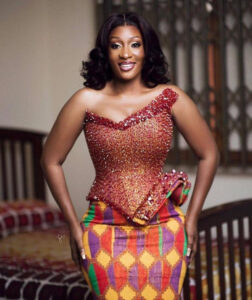 Price Of Kente Wedding Gowns In Ghana
The prices of Kente wedding outfits may differ depending on where you buy them.
From the little research that we did from one of the famous bridal shops in the country, we found that it is effortless to get that perfect Kente outfit you have always dreamed of for an average price of GHS 4,200.00. 
Note: The dress comes with a crown, earrings, heels, wedding rings, bracelet, etc. 
Places To Buy Your Kente Gown In Ghana
You can check out any of the stores below for that perfectly crafted Kente gown you have always dreamt of anywhere you are in Ghana. 
Located in Kumasi and Accra, Peace bridal offers you nothing but the best Kente wedding gowns and accessories. 
Check out some of their Kente outfits by visiting their Instagram page using the link below.
https://www.instagram.com/peacebridals
Pinksviva Bridals & Events
Located in Accra, Pinksviva Bridals & Events deals in everything from Kente gowns to rings and a lot more. 
For more enquiries, contact them using the information provided below.
Phone: 027 755 1538
Mother Bertha is a fashion designer located in Accra with exceptional skills in sowing nothing but the best Kente wedding gowns. 
For more information, visit her Instagram account using the link below.
https://www.instagram.com/modabertha
Thank you for reading this article. Make sure you can check our website Ghanainsider.com for more articles like this.