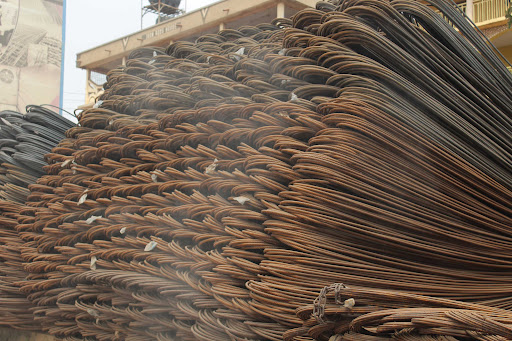 K Gyasi Iron Rods Prices In Ghana. Full Details
Are you looking for one of the best iron rods on the market for your project? If yes, then this is the right place for you to be. In this article, I will take you through the prices of K Gyasi iron rods, one of the finest iron rods on the Ghanaian market. 
But before we get into that, let's learn something brief about K Gyasi Iron Rods.
About K Gyasi Iron Rods
K Gyasi Iron rods is a quality product from Nana K Gyasi Company Limited. The company is famed for being one of Ghana's number 1 leading suppliers in steel products such as rebars (iron rods) and Cement. K Gyasi iron rods for many years now have been used in the construction of many major projects in Ghana. With K Gyasi iron rods, you get to build your dream project at a very minimal cost.
Types Of Iron Rods Used In Ghana  
Before we look at the price of K Gyasi iron rods, let's look at some types of iron rods available on the Ghanaian market. 
Iron rods come in different sizes, from 1/4 (6MM) to 32MM (40FT) high tensile. Normally the type of iron rods required to build a house depends on the nature of the building or the location where the project is taking place. 
For instance, Projects in waterlog areas need strong pillars, thus requiring large pillars constructed with big iron rods. 
Prices Of K Gyasi Iron Rods 
| | | | |
| --- | --- | --- | --- |
| ITEM | QUANTITY | UNIT PRICE (GHS) | TON PRICE (GHS) |
| 1/4 6MM | 550 PCS | 6 | 3,300.00 |
| 3/8 (7.5MM) | 300 PCS  | 9.5 | 2,800.00 |
| 8MM (30FT) | 240 PCS | 18.6 | 4400 |
| 10MM (30 FT) | 170 PCS | 24.5 | 4150 |
| 12MM | 125 PCS | 42.1 | 5,250 |
| 12MM STD | 123 PCS | 50.6 | 6,200 |
| 16MM ORDINARY | 70 PCS | 75.2 | 5,250 |
| 16 STD | 68 PCS | 91.3 | 6,200 |
| 20MM | 44 PCS | 141.00 | 6,200 |
Where To Buy Your K Gyasi Iron Rods
You can purchase your K Gyasi iron rods at any Nana K Gyasi company branch across the country. Nana K Gyasi company limited have many branches across the country. In Ashanti Region, you can locate them at Abuakwa Sepaase, Fumesua, Tanoso, Ampabame- Bohyem, Juaben, Breman, Ntiribuoho, Atimatim, MaaseToase, Abidjan nkwanta and Ejisu Adadientem. I
In Greater Accra and Central region, you locate Nana K Gyasi company limited at Pokuase Depot, Kosoa Depot, Iron city, Akweteman, Kwashieman, Pantan, Tantra hill and Papaase.
In the Eastern region and Brong Ahafo region too you can locate Nana K Gyasi company limited at Sunyani, Sunyani – Yawhema, Techiman, Wenchi, Akim Oda and Asamankese.
Address/Contact
Nana K.Gyasi Company.Ltd.
P.O.BOX SE 1069 Adum-Kumasi, Ghana
Tel: +233 32202 6811
Mob: +233 20818 6093
E-mail: [email protected]
Thank you for looking through our article. Please keep checking our site for more updates.