Ghanaian Reggae Artist/Radio Presenter Blakk Rasta has challenged Female Media Personality Nana Aba Anamoah to invite him over if she wants to have an intellectual discourse about Reggae and Bob Marley.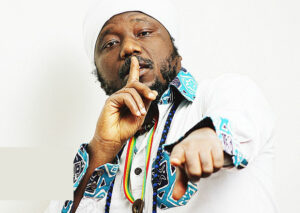 Blakk Rasta has expressed excessive dislike for the features that are being made with Bob Marley's songs. He cited Sarkodie's verse on Bob Marley's 'Stir it up' refix a led referred to it as a desecration of the legacy of Bob Marley.
Blakk Rasta has received series of backlashes from Sarkodie fans and entertainment pundits for sort of attacking Sarkodie and not entirely being objective.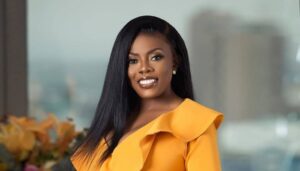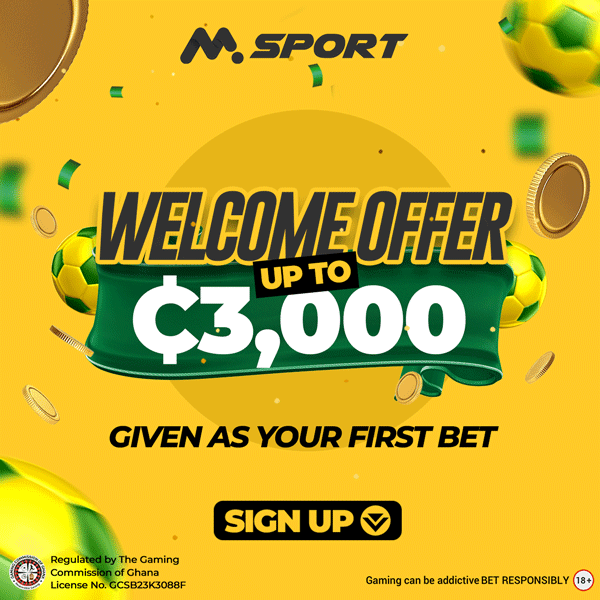 Nana Aba Anamoah took to Twitter and quoted the tweet that Blakk Rasta had tagged the family odf Bob Marley questioning them on their decision to feature other genre artists on Bob Marley's songs and rebuked Blakk Rasta for attacking Sarkodie.
She also made it clear that Blakk Rasta is not the only one who adores Bob Marley and so he should be mindful of his words.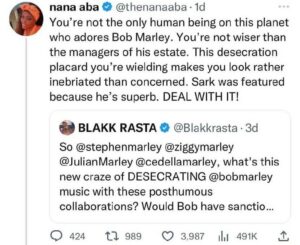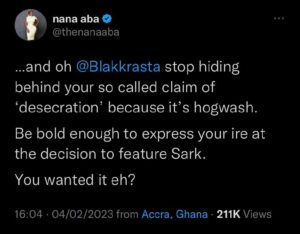 On 3fm today, Blakk Rasta has challenged Nana Aba to host him for an intellectual discourse if she's interested and he will whip her in her backyard because he has superior facts.