A new lottery operative called "Wotiriye" in partnership with the National Lottery Authority, MTN, vodfone and airteltigo has introduced a phone based game known as the *787# lottery. The aim of this game is to make lottery simple and convenient for all.
Anyone 18 and over with a mobile phone can play this game. You do not need any special phone, any type of phone can play this game. It does not matter your location in Ghana, you can play from anywhere across the country and win.
To play and win this game, you simply have to dial *787# and follow the prompts on your phone. An amount of 5.0 cedis is charged for every ticket. The tickets can be bought with mobile money or credit card. You can buy as many tickets as you want, the more tickets you buy the more your chance of wining big.
One can  play this game in any day in the week. Saturdays, 8pm are draw days. Where the winner for the week's jackpot is rewarded with a huge sum of money. Aside the weekly draw on Saturday, Tuesdays and Thursdays are special days where one wins 6 times an amount to qualify for the jackpot on Saturday.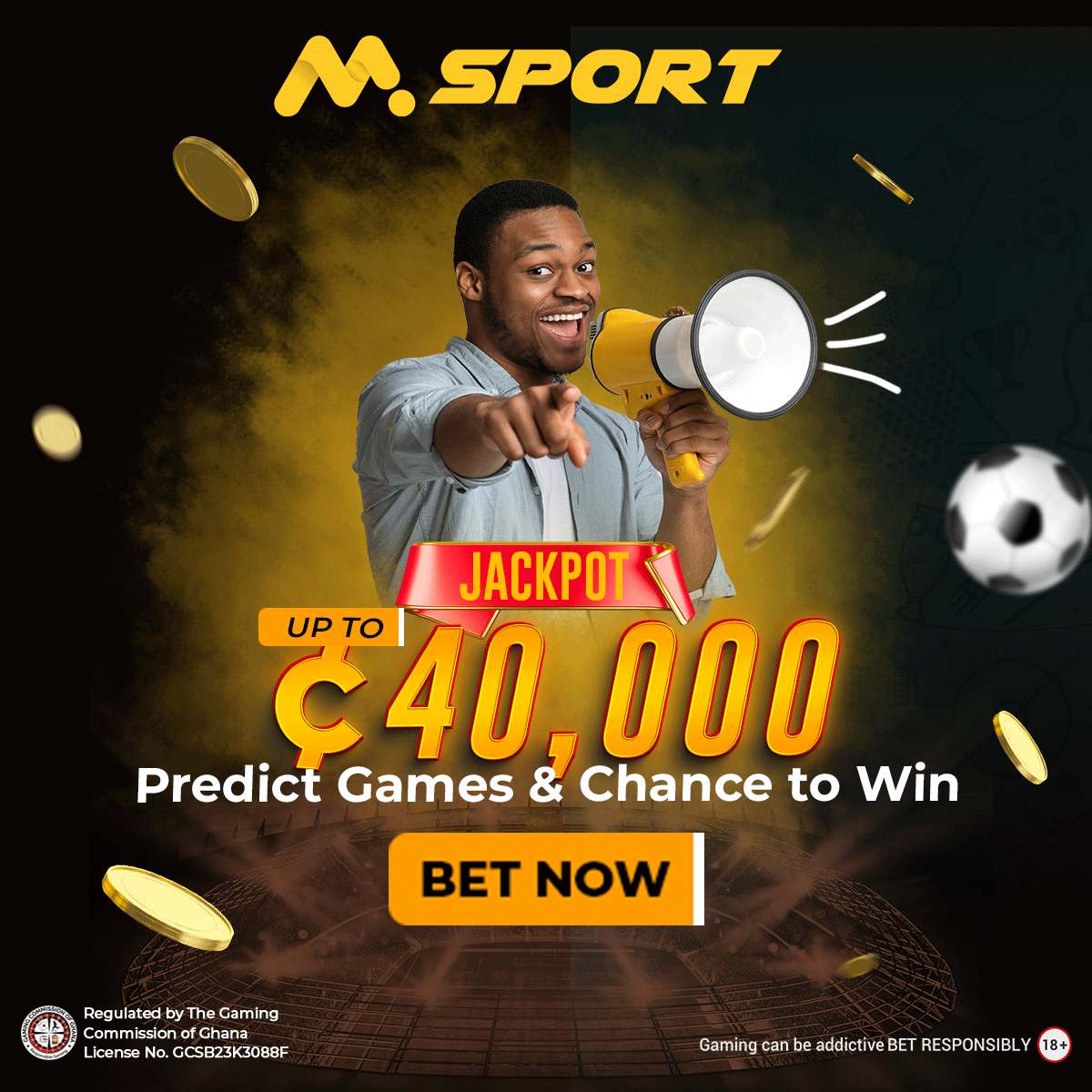 Tickets are selected through a randomly automated process and as such all purchased tickets stands an equal chance of winning any of the prize category.
Take your chances by participating in the weekly draw to WIN BIG.
How to play the 787 lottery
Dial *787#  or visit 787lottery.com and choose " play now"

Enter the number of tickets you would like to buy- a ticket is GHS5 and pay with mobile money or credit card..

Now you are ready to win!
How to check results for 787 lottery
Results for the 787 lottery and winning prizes are instant.
To check for the results,
Dail *787#
select option 3- draw results
Your code will only appear in the results if you are a winner to any of the prizes.
787 lottery winners 
Mr. Laud Kotey from Yeji in the Bono East region was the first to win a jackpot of GHS 162,950 on March 28,2020.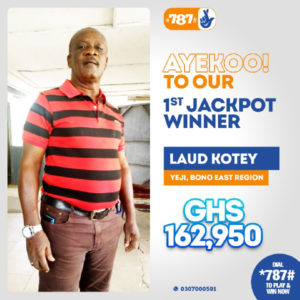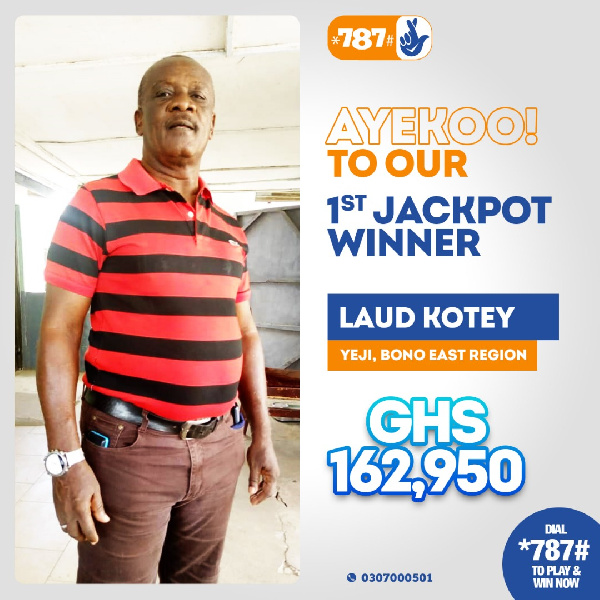 A tailoring apprentice, Amabe Valarius wins GHS 157,500- the second jackpot. This was on 9th May, 2020.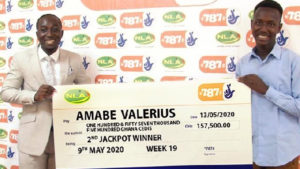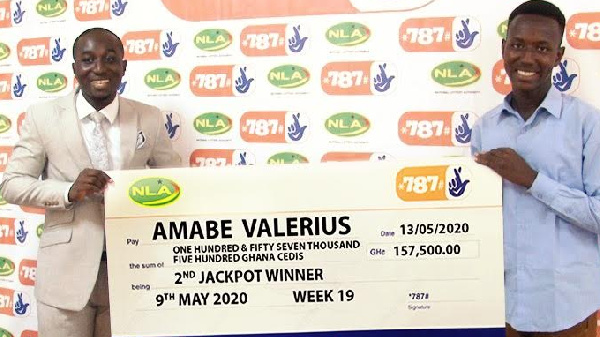 3rd jackpot winner, Eugene Siribour Agyemang is a cocoa marketing principal. He wan GHS 105,000 on 30th May, 2020.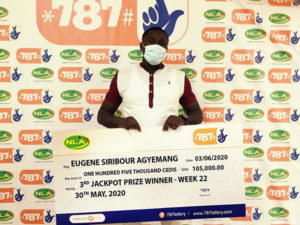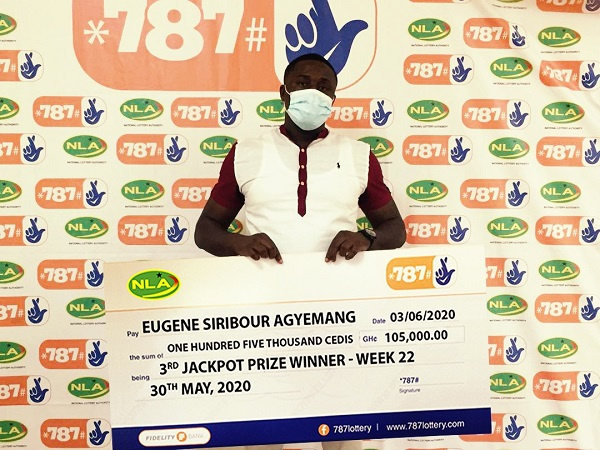 Noguchi researcher Charllotte Adwoa Addae on GHS 70,000 as the 4th jackpot winner on June 6, 2020.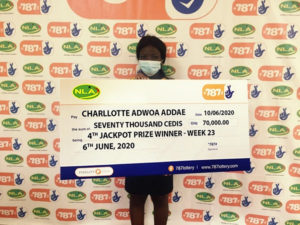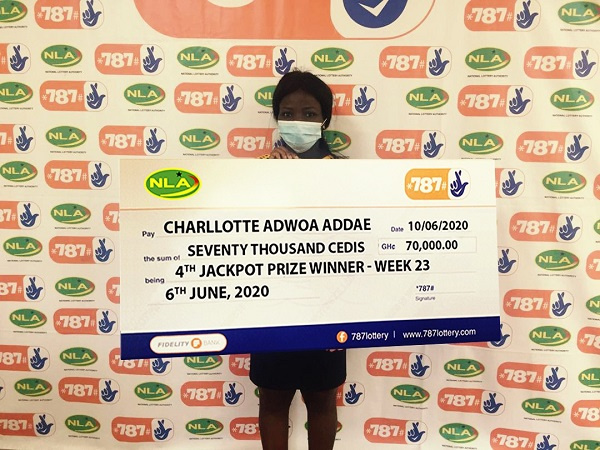 Ebenezer Donkor is the basic school teacher who won GHS 208,500 as the 5th jackpot on 4th July, 2020.