Ghana's former Chief Justice, Sophia Akuffo, has turned back to the premises of the Ministry of Finance, to link up with other pensioner bondholders picketing to call for a total exclusion from the Domestic Debt Exchange Programme (DDEP).
Former Chief Justice, Sophia Akuffo initially joined the bondholders on Friday, which lead to diverse responses among Ghanaians. According to her, she will sue the government if their pension funds are included in the Domestic Debt Exchange Programme (DDEP).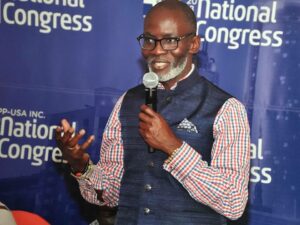 The actions taken by the former Chief Justice did not go down well with most of the NPP stalwarts. In a tweet, Gabby Otchere-Darko, an NPP member stated that he does not understand the "fuss" the former Chief Justice Sophia Akuffo brought up over the inclusion of pensioners in the DDEP.
"Why picket over an offer that you have the liberty not to accept?" he quizzed.
On Tuesday, February 14, the Government opened up that the Domestic Debt Exchange Program (DDEP) officially closed on Friday, February 10, 2023, with over 80% participation of eligible bonds.