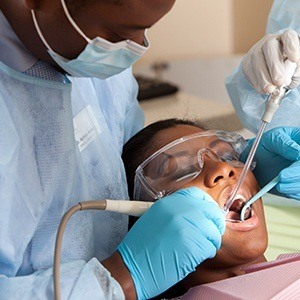 Dental Procedure Cost List In Ghana. Full Details
If you are reading this post then, you are probably thinking of going for a dental procedure but wondering how much it will cost you.
I can assure you you are in luck because I will take you through the costs of various dental procedures in Ghana in this article. 
But before we get into that, let's look at some of the common dental procedures most Clinics in Ghana do and how they work.
Common Dental Procedures Done In Ghana
Teeth Cleanings
This is by far the most prevalent reason for dental visits. Cleanings are recommended every six months by many dentists and once a year by others. In any case, it's a crucial aspect of oral health. Your toothbrush will never be as effective as the instruments used by a dentist to clean your teeth.
Teeth Whitening
Whitening, like cleaning, is a reasonably painless procedure. Some people are allergic to the whitening substances used, but it's a simple treatment that most dentists can perform. Teeth whitening kits that may be used at home need a lot of time and effort. You'll need to buy supplies and devote a significant amount of time.
Extractions
Extractions appear to be frightening and unpleasant. They aren't the most pleasant of processes, to be sure. Your dentist, on the other hand, will do all possible to make you feel at ease. An extraction may be required for a variety of reasons.
You'll either be unconscious or completely numbed if you're getting a tooth extracted. You won't be able to feel a thing! You may be sore afterwards, but extractions are almost always to prevent further pain.
Fillings
Cavities are far too frequent and far too simple to acquire. A filling is the best option for most cavities. Overexposure to acids in food and inside your body can rapidly erode tooth enamel.
Fortunately, most cavities may be filled quickly. You'll most likely remain numb for a few hours after the filling is completed. It normally takes an hour to complete, and then it's as good as new! While they're functioning, you may feel some pressure, but it shouldn't be uncomfortable.
Braces/Invisalign
Traditional braces are being phased out in favour of Invisalign, yet they both serve the same objective.
Straighter teeth are frequently healthier and easier to care for; therefore, the goal is to straighten and fix crooked teeth. Metal and other materials are used in traditional braces to gradually tighten teeth back into position.
Dental Procedure Cost List In Ghana
In Ghana, dental procedures are quite expensive but are worth it in terms of making you feel confident and comfortable. The list below shows how much it will cost you to get some of the procedures explained above done.
Dentist Consultation – Ghc 70 to Ghc 100.00

Braces – Ghc 8,000 to Ghc 12,000.00

Teeth Whitening – Ghc 800 to Ghc 1,000.00
Note: The cost of other procedures you don't see here are quite confidential and can only be attained through a special enquiry.
Thank you for taking the time to read this article. Don't forget to tell your friends and family about our website so they can benefit from the information, and don't forget to read our other articles since we have more in store for you.