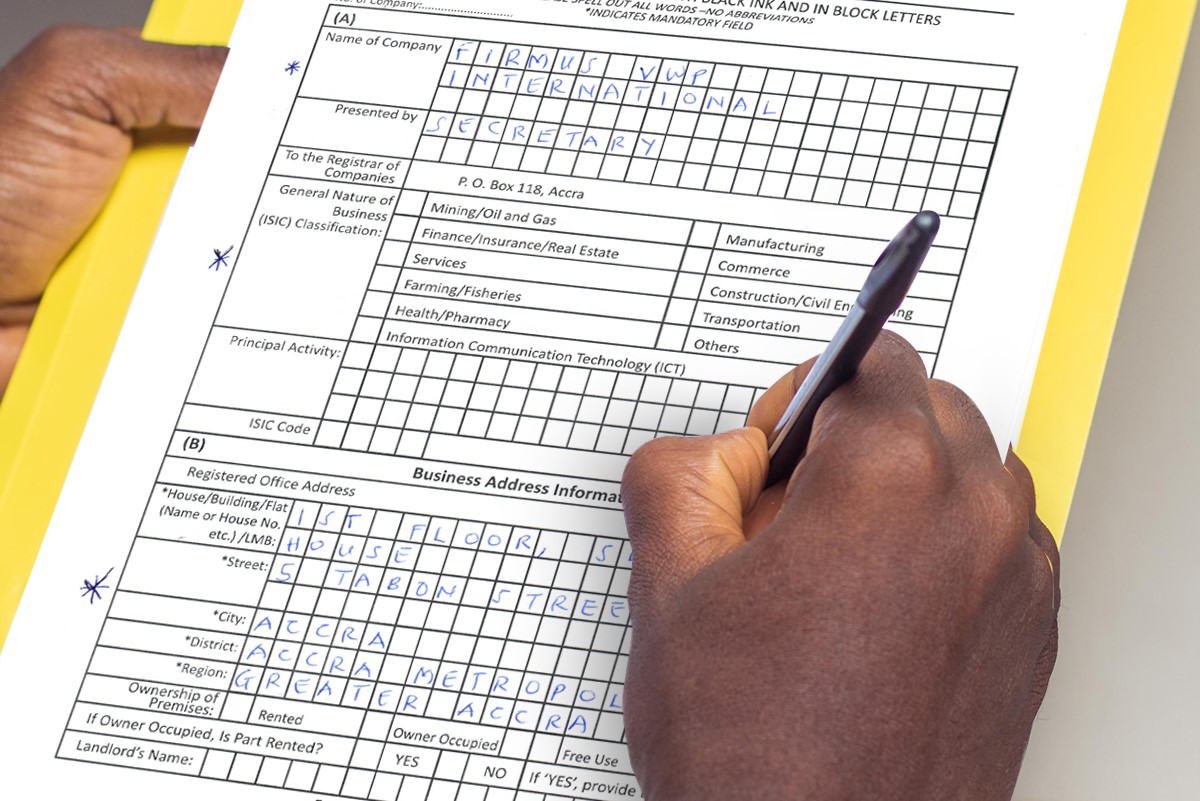 Types Of Company Registration In Ghana
The legal registration of a business entity with the Registrar General's Department is the first step in launching a business in Ghana (RGD).
There are many different types of company entities that can be registered under Ghanaian law, so it's critical to pick the correct legal structure for your needs.
Below are the various forms of business registration under the laws of Ghana;
Companies Limited by shares

Companies Limited by guarantee

Companies with unlimited liability

External Company

Sole Proprietorship
Probably you don't know what these terms mean, so let's take each one by one and explain. 
Types Of Company Registration In Ghana
Companies Limited By Shares
The general public is included in the ownership of a corporation limited by shares. By purchasing a share of the company through the stock exchange, any public member can become a shareholder. The company's shareholders' liability is limited to the nominal value of their shares.
The corporate affairs ministry and financial market authorities of their respective countries regulate the commercial operations limited by shares.
Companies should also report to authorities and the corporate affairs department regularly. Annual financial statements, an auditor's report, and a statement from the Board of Directors are all included.
As a result, the company will raise a significant amount of money for business expansion and capacity building. The corporation has the ability to repay debts, restructure debts, conduct research & development, and acquire smaller or competing corporations.
Companies Limited By Guarantee
Guarantee Company is another name for a company limited by guarantee. In a nutshell, it's a corporation that doesn't have any shareholders but is owned by members known as guarantors who pledge to pay a small amount if the firm goes bankrupt. It's a non-profit organization's unique form.
Companies With Unlimited Liability
General partners and sole proprietors are both equally accountable for any debts and liabilities incurred by the business under an unlimited liability company. The majority of businesses choose to form limited partnerships, in which a partner's responsibility is restricted to their participation in the business.
External Company
An external company is a corporation that was formed outside of Ghana but has a registered office in Ghana. Despite the fact that an external company is subject to Ghanaian tax regulations (income and corporate tax), it is governed by the laws of the nation in which it was founded.
Sole Proprietorship
A sole proprietorship, often known as a sole trader or proprietorship, is an unincorporated business with only one owner who pays personal income tax on the business' profits.
Due to a lack of government oversight, a sole proprietorship is the easiest type of business to start or shut down.
As a result, these types of enterprises are extremely popular among sole proprietors, independent contractors, and consultants.
Because a distinct business or trade name isn't required, many single owners operate under their own identities.
How To Register Your Business In Ghana
Below is the steps on how you can register your business in Ghana at the comfort of your home. 
Visit the Registrar General's department portal.

Search the name you want to use for your company to make sure it is available.

Then sign up and log in on to the RGD platform and start filling your registration form.

Fill in details of your business and Tax Identification Number (TIN)

After the form is filled, go to the nearby RGD office and make a payment of Ghc 60.00 to complete your registration. 

You will have your business completely registered with 14 to 28 working days. 
Thank you for taking the time to read this article. Don't forget to tell your friends and family about our website so they can benefit from the information, and don't forget to read our other articles since we have more in store for you.