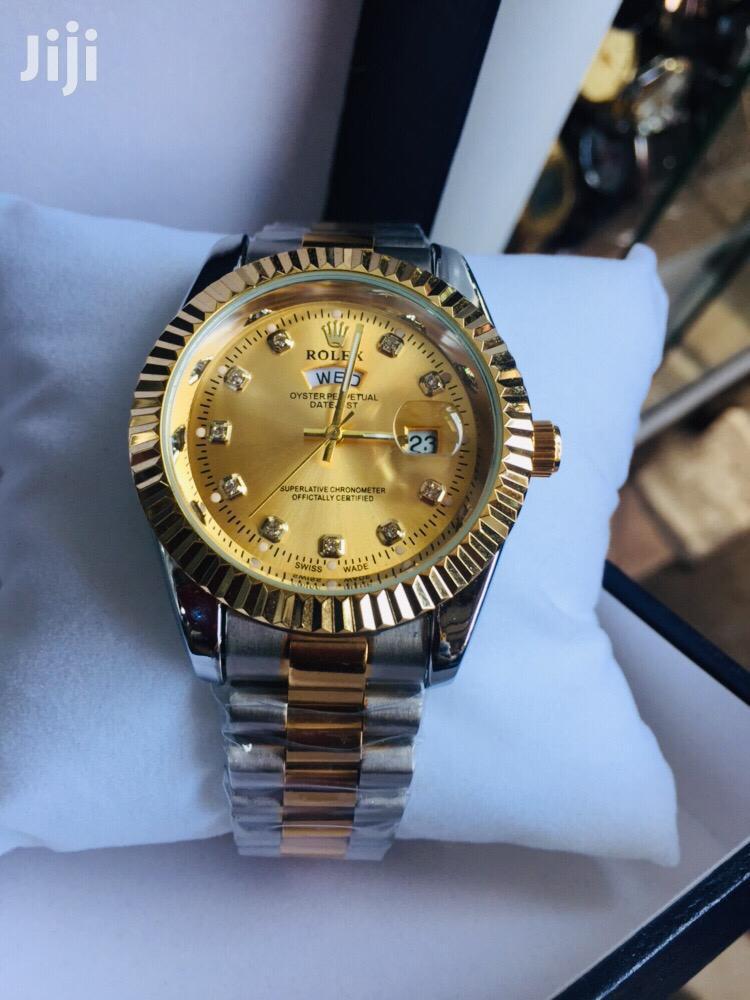 Rolex Oyster Perpetual Datejust Price In Ghana. Full Details
In this post, I am going to take you through Rolex Oyster Perpetual Datejust price in Ghana, where you can buy them and the necessary contact details to get in touch with sellers. 
A lot of us sometimes are quite astonished when we hear the huge amount people fork out to buy Rolex watches. What makes these watches so special? We ask, well, let's find out by learning more about the Rolex brand.
About Rolex 
Rolex watches are made from the highest-quality materials and assembled with meticulous attention to detail.
Rolex SA is a British-founded Swiss watch designer and manufacturer based in Geneva, Switzerland.
Hans Wilsdorf and Alfred Davis founded Wilsdorf and Davis in London, England, in 1905. In 1908, the firm registered the word "Rolex" as the brand name for their timepieces, and in 1915, it became Rolex Watch Co. Ltd.
The firm shifted its headquarters to Geneva due to the terrible economic conditions in the United Kingdom following World War I. In Geneva in 1920, Hans Wilsdorf registered Montres Rolex SA as a new company name (montre means "watch" or "timepiece" in French); it later became Rolex SA.
Since 1960, the corporation has been held by the Hans Wilsdorf Foundation, a private family trust.
Why Are Rolex So Expensive?
Rolex uses the 904L stainless steel in all of its collections. This ensures that all their timepieces are exquisite, tough, and long-lasting, and is a major factor why Rolex watches are highly sought after and also so expensive.
In addition, Rolex has built a reputation for itself as an iconic brand with several celebrities and billionaires as its main consumers. Thus if someone is willing to own this timepiece, then that consumer must be willing to pay the price since it is now an ostentatious commodity. 
How to Check Whether A Rolex Is Real 
All Rolex watches have serial numbers stamped between the lugs at the 6 o'clock position. To find this, you'll need to take off your bracelet. You should be able to notice a tiny glow around the edges if you hold it up to the light. If you don't see this, try other ways of checking to be certain whether the Rolex is real or not. 
Rolex Oyster Perpetual Datejust Price In Ghana
After long extensive research at some of the famous jewellery shops in Ghana, we concluded that with amounts ranging from GHS 63,175.00 to 94,040.00 you can get an unworn or a pre-owned Rolex Oyster Perpetual to buy in Ghana. 
Where to Buy Rolex Perpetual Datejust in Ghana
For convenience sake, you can order your Rolex online but to make sure you are getting the real Rolex perpetual Datejust, visit the Rolex website and find out the nearest seller near you to buy from them. 
Watch the Video below: 
Thank You for reading this post. Don't forget to recommend our site, Ghana insider, to your friends and family who might also profit from the information on our website, and check out our other articles because we have more information to bring to you via your devices.
I believe you have any comments or suggestions to drop about this article, kindly make use of the comment box below and reach us for more discussion.
Ghana insider is on the mission to give you insightful knowledge about anything in Ghana; Latest Entertainment news, General news, insurance, banks, mortgage, Farming, product pricing, food, business, and more.