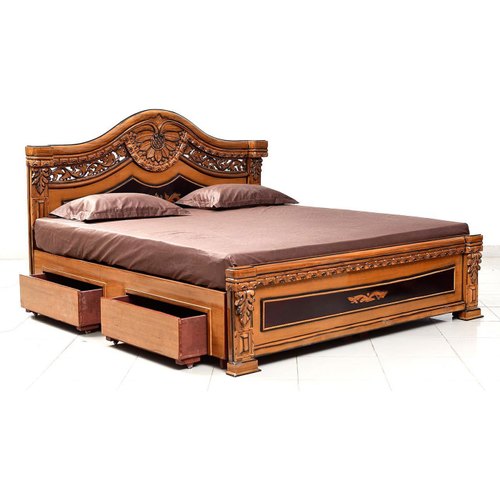 Prices Of Wooden Beds In Ghana
Averagely, every person spend one third of their lives in bed. For this reason, aside comfort and aesthetics, every person should consider their health factors when choosing their bed. To end on this, take note that, your bed quality is directly proportional to your rest. 
Wooden Beds are economical. A lot of people will agree to this because, wooden beds are known to be durable (or long lasting) and affordable. 
Most wooden bed frames are made of an oak tree. Obviously, oak trees have the durability right. Therefore it will sound great for one to possess a wooden bed in his/her apartment.
You might be asking yourself: how much does a wooden bed cost in Ghana. Put differently, what is the cost of a wooden bed in Ghana? Again, where can you purchase a wooden bed in Ghana? These and many other questions will be addressed in this post.
Wooden Beds In Ghana
Wooden Beds come in different designs and styles. Most wooden beds are brownish because, they consist of wood. Notwithstanding, wooden beds can be painted to fit any bedroom décor. 
Usually, wooden beds are classified based on their sizes. Other categories such as design and style, can be employed when classifying wooden beds.
Types Of Wooden Beds
There are no special types of wooden beds however, wooden beds can be classified based on their sizes. With respect to this, check the types of wooden beds below.
Single Wooden Bed

Semi Double Wooden Bed

Double Wooden Bed (king size and queen size)
Based on design and style, below are other types of wooden beds available.
Manzonia Red Wooden Bed

White Wood Pagoda Wooden Bed

Divan Wooden Bed

Alexander Wooden Bed

Baby Crib Wooden Bed
Prices Of Wooden Beds In Ghana
As mentioned earlier, wooden beds are affordable. The prices here are estimated ones and hence, budget your money around it. 
Average price: GH¢ 500 – GH¢ 3000
Single Size: GH¢ 800 or less
Semi Double Size: GH¢ 800 and more. 
Double Size (King Size or Queen Size): GH¢ 1900 and more. 
The prices are been determined by their sizes and aesthetic nature. 
How To Choose A Bed 
Before you choose your bed, consider the following: aesthetics (beauty), comfort (stress free), available room space and the size or height of the bed. 
Where To Buy Wooden Beds In Ghana
There are numerous places in Ghana where you can buy a wooden beds. Check some of these places below.
Jamila Home, Accra
Jiji Ghana
Kpogas Furniture Spintex, Accra
Ghanabuysell
Latex Foam Ghana
Jumia Ghana
Ashfoam Depot Baah Yard, Accra 
Ghloozap
Romantic furniture Spintex, Accra
Tonaton
Remar Store (Remar Ghana), Accra
Ashfoam-Palace Mall (Spintex), Accra
Orca Deco Ghana, Accra
Casa Trasacco, Accra
Kpogas Furniture – Spintex, Accra
La Mission, Accra 
Bedmate Furniture Limited, Accra