Joe Pavelski is an American professional ice hockey player who was born in Plover, Wisconsin. His parents are Sandy and Mike Pavelski and he was born on July 11, 1984.
Joe Pavelski has three siblings namely Jerry, Sheri and Scott and based on what his mother recounts, Joe Pavelski has always been athletic and as such it is not surprising that he turned out to be an ice hockey player.
With respect to his amateur days as an ice hockey player, Joe Pavelski who was then a student of Stevens Point Area Senior High, won the Wisconsin State Hockey Championship in  2005. He was also a member of the 2004 Clark Cup champion Waterloo Black Hawks of the USHL. Joe Pavelski also won the 2004 USHL Dave Tyler Junior Player of the Year award.
He was a great player and played in over 84 games in two seasons at the University of Wisconsin of the  Western Collegiate Hockey Association. Joe Pavelski got a call-up to be part of the All-WCHA Rookie Team in 2005 and also got an entry into the second team of ALL-WCHA.
He was part of the Wisconsin team that won the NCAA Division I Men's Ice Hockey Championship. Currently, Joe Pavelski is the alternate captain of Dallas Stars of the National Hockey League even though he spent some time playing for the San Jose Sharks for about thirteen years.
By way of education, Joe Pavelski attended the University of Wisconsin and played for the Wisconsin Badgers men's ice hockey team.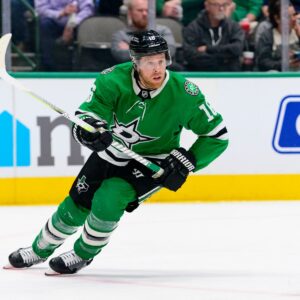 He became the  11th Sharks player in the history of the team to score a goal in his NHL game and also won a silver medal for the United States men's national ice hockey team at the 2010 Winter Olympics in Vancouver.
Joe Pavelski had the nickname "Little Joe" and "Captain America" and served as the captain of the USA team that represented the country at the 2016 World Cup of Hockey in Toronto. Joe Pavelski stands at 5 ft 11 inches and weighs 88kg. He is happily married to Sarah Pavelski .
Find below some of the deals  Joe Pavelski has so far been involved in;
In 2006, Pavelski signed a two-year entry level contract with an annual average value of $850,000.
On June 25, 2008, Pavelski signed a contract extension paying him $3.3 million over the next two years. On June 24, 2010, Pavelski signed a four-year, $16 million contract to stay with the Sharks.
On July 30, 2013, Pavelski signed a five-year, $30 million contract extension with the Sharks.
On July 1, 2019, Pavelski signed a three-year, $21 million contract with the Dallas Stars.
On March 11, 2022, Pavelski signed a one-year, $5.5 million contract extension with the Dallas Stars.
Joe Pavelski Salary
Joe Pavelski  is believed to earn as much as  $5,500,000 as salary for a year and this pertains to the 2022-2023 season
Joe Pavelski Net Worth
The worth value of Joe Pavelski is $24 million and he is definitely one of the richest ice hockey players in the United States of America.