The people you have around you as family goes a long way in shaping you to become a better person. They provide a shoulder to lean on to when things aren't going as plan. Since the death of Jacklyn Zeman was announced, there've been a lot of queries about her family.
Hence in this write up, we will be taking a closer look at the family of Jacklyn Zeman to find out the kind of people she had around her before she passed away.
The 'General Hospital' star was born on March 6, 1953 in Englewood, New Jersey to Richard S. Zeman and Rita Zeman-Rohlman. She was however raised in Bergenfield where she attended high school at Bergenfield High School. From there, she attended New York University on scholarship where she studied dance.
Her acting career started in 1974 but landed her breakthrough role three years later on the ABC daytime soap opera 'General Hospital.' Her time on the show ended with her death in 2023 after 45 years as Bobbie Spencer in GH. Aside General Hospital, she has also appeared in films and series like Misguided (2017-2019), The Bay (2010-2023), The Mission (2005), Sledge Hammer (1987), etc.
Jacklyn Zeman Parents 
Zeman's parents were of Jewish descent hence raised her as such. They are Richard S. Zeman and Rita Zeman-Rohlman. Her father was a systems engineer whereas her mother was a magazine supervisor.
Jacklyn Zeman Siblings 
We do not have any information about Jacklyn Zeman siblings (if any).
Jacklyn Zeman Husband 
At the time of her death on May 10, 2023, Zeman was not married. However, she was previous married three times.
Her first marriage was with a well-known DJ, Murray Kaufman who died barely a year after their divorce due to cancer. He was about 31 years older than the actress but the age difference didn't stop them from falling in love and subsequently getting married.
After dating for about 7 years, Zeman and Murray the K got married on September 16, 1979 but divorced about 18 months later in 1981. She then got married for the second time in 1985 to Steve Bribbin and again divorced a year later in 1986.
Two years after her divorce to her second wife, Zeman got married to Glenn Gorden on February 14, 1988 and welcomed their first child, Cassidy two years later on September 16, 1990. Cassidy was followed by Lacey Rose Gorden on July 15, 1992.
However, by 2007, the couple gave up on their marriage after 19 years of being together and finalized their divorce on June 21, 2007.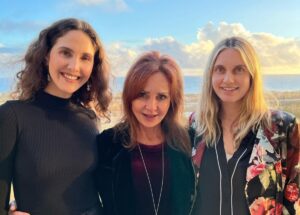 Jacklyn Zeman Children 
Zeman is survived by two beautiful daughters called Cassidy Zee Gorden and Lacey Rose Gorden. They are the only children of the late General Hospital star born to her and her third husband, Glenn Gorden.
Her first daughter, Cassidy Zee Gorden was born on September 16, 1990 followed by Lacey Rose Gorden on July 15, 1992. Lacey is a determined realtor who is focused on building relationships, provide selfless service, her health and inner peace.
Her daughters were almost always available to her in Malibu, California where they lived and showered her with all the love and care she deserved as a single mother.
On her 70th birthday for example, Lacey shared lovely photos of herself, mother and Cassidy on instagram with a lovely birthday message that reads "Everyone send my mom a little extra love on her birthday today! She is a positive might in so many lives. Her impeccable cute values are a blessing and arguably her greatest asset."
"I am proud that she raised me to be an empowered female who strives to be a go-giver. I love you, mom!"
Jacklyn Zeman Grandchildren 
Zamen was a proud grandmother to Decker Remington MacLeod, Kennedy and one other.