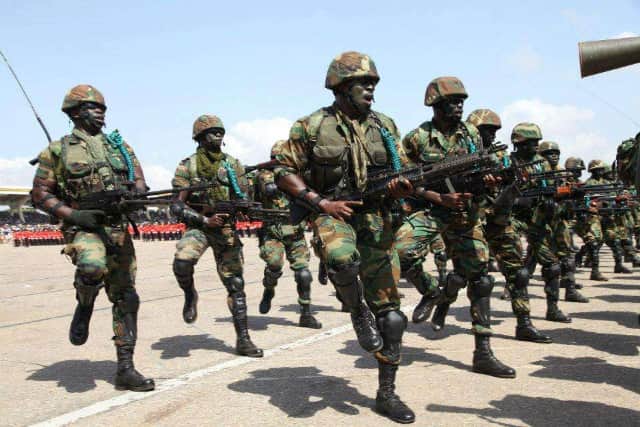 Ghana Armed Forces Medical Examination. Full details
In this post, I am going to take you through all the necessary information worth knowing about the Ghana Armed Forces Medical Examination. 
The fourth phase of Ghana Armed Forces recruitment is a medical examination. Applicants who pass the aptitude test are invited to do their medical examination. The date for the screening is always released after the completion of the previous phase. 
Normally Applicants who were successful in screening, aptitude tests, and trade tests are invited in batches via SMS for medical examination.
If you are wondering about the nature of the medical examination, then keep reading this article to the end to find out. 
Ghana Armed Forces Medical Examination
Medical Standard 
An applicant should have a strong physical appearance as well as good mental health. The chest should be adequately developed, with a minimum expansion of 5 cm. Each ear should have normal hearing and both eyes should have acceptable binocular vision. With each eye, he should be able to read 6/6 on the far vision chart. CP-III colour vision is required. Should be able to distinguish between red and green. A sufficient quantity of natural, healthy gums and teeth, i.e. at least 14 dental points, is required. Diseases such as bone deformities, hydrocele, varicocele, or piles should be avoided.
Physical Fitness Tests(PFT)
To determine Physical Fitness, the following tests carrying 100 marks are held:
(a) 1 Mile Run
(b) Pull-Ups
(c) Balance
(d) 9 Feet Ditch
The marking system of GAF are usually as follows: 
(a) 1 MILE RUN
5.40 Mins and below 60 Mks

5.41 Mins to 5.50 48 Mks

 5.51 Mins to 6 .05 36 Mks

 6.06 Mins to 6.20 24 Mks
(b) PULL-UPS
 10 and above 40 Mks

 9 33 Mks

 8 27 Mks

 7 21 Mks

 6 16 Mks
(c) BALANCE Should be qualified and no marks are awarded.
(d) 9 Feet Ditch Should be qualified and no marks are awarded.
Frequently Asked Questions 
1. Where is the medical Examination held? 
Answer: Ghana Armed Forces (GAF) usually hold the medical examination phase of its recruitment at the 37 Military Hospital in Accra.
2. How long does it take to become a soldier in Ghana?
Answer: The duration of the course for army cadets is two years. At the end of the first six months, a few candidates may be selected to finish their studies at foreign institutions such as the Royal Military Academy at Sandhurst in Britain.
3. Is D7 accepted in Ghana Armed Forces?
Answer: D7 is a pass and cannot be ignored when it comes to recruitment into the Ghana Armed Forces. Applicants with results between A1 to C6 may have an upper hand when the selection process becomes competitive at the preliminary stages.
Watch video below: 
Thank You for reading this post. Don't forget to recommend our site, Ghana insider, to your friends and family who might also profit from the information on our website, and check out our other articles because we have more information to bring to you via your devices.
I believe you have any comments or suggestions to drop about this article, kindly make use of the comment box below and reach us for more discussion.
Ghana insider is on the mission to give you insightful knowledge about anything in Ghana; Latest Entertainment news, General news, insurance, banks, mortgage, Farming, product pricing, food, business, and more.