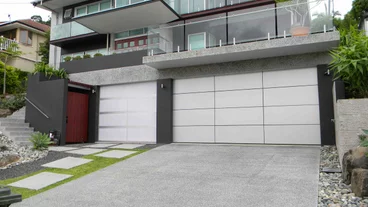 Garage Security Door Prices In Ghana. Full Deta
In this post, I am going to bring you accurate garage security door prices in Ghana and other necessary information worth knowing about garage security doors. 
Let's first learn something brief about garage doors before we take a look at the price of security garage doors in Ghana.
A garage door is a huge door that opens manually or with the help of an electric motor (a garage door opener). Automobiles and other vehicles are frequently able to fit through garage doors that are large enough.
A single panel that tilts up and back across the garage ceiling can be used for small garage doors. Larger doors are typically made up of multiple jointed panels that roll up on tracks across the garage ceiling or into a roll above the doorway.
Types Of Garage Doors 
1. Single Panel Garage Doors
Single panel doors are constructed from one monolithic panel. From the closed position a single panel door swings up and overhead with a hinge on each side (known as jamb type hardware) to the fully open position. 
2. Sectional garage doors
Sectional doors are usually constructed of three to eight panels and slide up and overhead. Sectional doors occupy exactly the same amount of internal garage space as monolithic doors.
3. Roller doors
Roller doors (sometimes called "sheet doors") are usually constructed of corrugated steel. They evolved from cover windows and door coverings. 
4. Side Hinged Garage Doors 
These garage doors are popular for their aesthetic appeal. They swing open from a meeting point between two sections of the door, creating a "French door" type of opening.
5. Automated Garage Doors 
If you're looking for the best garage security system, automated garage doors may be the answer. These familiar garage doors use a motorized opener to open and close the door at the push of a button or security code.
Garage Security Door Prices In Ghana
Below are some of the prices of security garage doors in Ghana.
JIJI ONLINE
Security Garage door – GHC 6,125.00
Automatic Garage Door – GHC 6,000.00
LOOZAP
Automated Garage Door – GHC 5,400.00
Where To Buy Security Garage Doors In Ghana
You can visit any of the online stores above and check out the garage door that suits your preference most or check out the stores listed below.
Thank You for reading this post. Don't forget to recommend our site, Ghana insider, to your friends and family who might also profit from the information on our website, and check out our other articles because we have more information to bring to you via your devices.
I believe you have any comments or suggestions to drop about this article, kindly make use of the comment box below and reach us for more discussion.
Ghana insider is on the mission to give you insightful knowledge about anything in Ghana; Latest Entertainment news, General news, insurance, banks, mortgage, Farming, product pricing, food, business, and more.