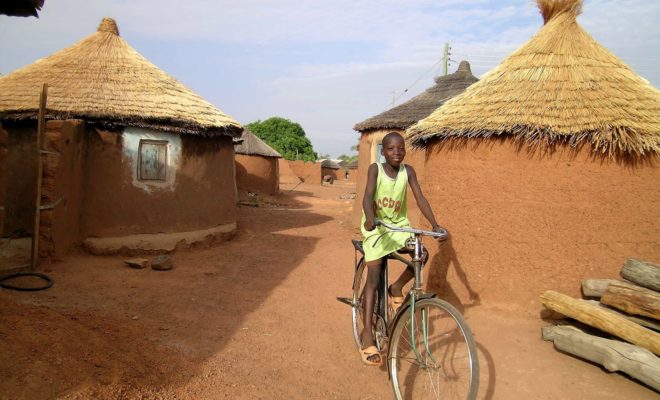 Causes Of Poverty In Northern Ghana. All You Need To Know
In this article, we delve into the causes of poverty in the Norhtern part of Ghana.
Ghana's Northern Region is one of the country's sixteen regions. It was the largest of the sixteen regions, encompassing 70,384 square kilometers or 31% of Ghana's land area until December 2018, when the Savannah Region and North East Region were formed from it. There are 14 districts in the Northern Region. Tamale is the region's capital.
Climate And Vegetation
Due to its proximity to the Sahel and the Sahara, the Northern Region of Ghana is substantially drier than the southern parts of the country. Grassland dominates the landscape, particularly savanna with clusters of drought-resistant plants like baobabs and acacias. The dry season lasts from January through March.
The rainy season lasts roughly from July to December, with yearly rainfall ranging from 750 to 1050 mm (30 to 40 inches). The hottest days are at the conclusion of the dry season, and the coldest are in December and January. Between December and the beginning of February, however, the scorching Harmattan wind from the Sahara blows frequently. Temperatures can range from 14 degrees Celsius (59 degrees Fahrenheit) at night to 40 degrees Celsius (104 degrees Fahrenheit) during the day.
Economy
Agriculture employs more than 75% of the economically active population. Emigration, as well as geography and climate, contribute to the low population density.
Tourist And Attraction
Naa Gbewaa Palace, Yendi
Saakpoli Slaves wells
Diarre Napagaduungbanani
Naa Binbegu Boabab Tree, Yendi
Buntaga Irrigation Dam
Sabali (River Oti)
Nawuni River (White Volta)
Causes Of Poverty In Northern Region Of Ghana
Below are some factors that is a major cause of poverty in the Northen Region Of Ghana.
Chieftaincy Conflicts
In Ghana, chieftaincy wars are sometimes depicted as clashes between different groups for control of traditional political power.
Chieftaincy conflicts, on the other hand, are complicated, and they are frequently formed by a constellation of different actors, national and local politics, and elite maneuvering.
This article demonstrates that chieftaincy conflicts are processual, comprising constellations of varied actors, elite politics, and manipulation, rather as structural interpretations of competition and contestation for traditional power.
Chieftaincy conflicts in Northern Ghana are driven by a combination of structural and processual causes. Chieftaincy institutions that were supposed to be apolitical have become politicized as a result of party politics in chieftaincy contests.
Ethnic Conflict In Northern Ghana
The origins and consequences of disputes in the Northern Region are investigated in this article, with a focus on the Konkomba inter-ethnic clashes. It places conflict in the context of Ghana's Northern Region and defines conflict as a situation in which people, groups, or individuals are involved in a major disagreement or debate that escalates into violence.
Antagonism between individuals or groups in society is also referred to as conflict. A pattern of struggle for paramountcy and autonomy emerges from an examination of inter-ethnic conflicts in the Northern Region. The battle for paramountcy and autonomy is one of the main causes of violence between Konkomba and other ethnic groups such as the Dagomba, Nanumba, and Gonja.
Traditionally, the social structure in the Northern Region has been divided into chiefly and acephalous societies. The former have organized themselves around hereditary chieftaincy structures that have a hierarchy from lower level chiefs to divisional chiefs, paramount chiefs, and even some that are superior to paramount chiefs who acts like kings. Four ethnic groups, Dagombas, Nanumbas, Gonjas, and Mamprusis, organize themselves this way.
The acephalous groups, such as the Konkombas, Nawuris, Basares, and Nchumurus, are segmentary societies that have not had hierarchical structures such as chiefs and chieftaincies.
To a very large extent they are migratory yam farmers who settle on a land and till it until it becomes less fertile, at which time they move on to other areas where the land has lain fallow for some time.
Land Ownership
Land Ownership and control of land are another major source of ethnic conflicts in the Northern Region. Land has remained a thorny social, economic and political issue which has generated a lot of ethnic conflicts between Konkombas and Bimobas, Konkombas and Dagombas, Konkombas and Nanumbas, Konkombas and Gonjas, Gonjas and Nawuris and recently Konkombas and Nawuris.
The study relies on a survey of 600 people in different parts of the Northern Region to ascertain the perceptions of people about conflicts in the region. The analysis suggests that almost all the respondants are of the view that an impending major conflict is likely to occur in the Northern Region.
There is enough evidence to suggest that all ethnic groups that were involved in the major conflict in 1994 are stock piling arms to be used in the event of another ethnic war. This observation calls for an urgent examination of potential dangers of another inter ethnic and intra ethnic conflict.
Due to all this conflicts and misunderstandings going on in the Northern Region of Ghana, productivity has really gone down drastically hence most people living there struggle to make earns meet.
Conflicts are the major cause of the poverty in the Northern Region of Ghana.