Air hostess job is a known and admirable profession, especially in this country. There are many things we wonder about that career path including what skills necessary to possess, their role, the salary they earn and many more.
This article will talk about all these and other things you may want to know about this profession, most especially, the salary of an air hostess.
An air hostess is a woman who serves passengers boarding a flight and makes sure they are safe. There are a number of skills required of an air hostess or flight attendant. Some of such skills are:
Roles of air hostesses
Being able to communicate well with passengers aboard to know their needs and concerns.

Being able to let passengers know that they will be safe in case an emergency arises, and also give guidelines to passengers to follow in order to be safe.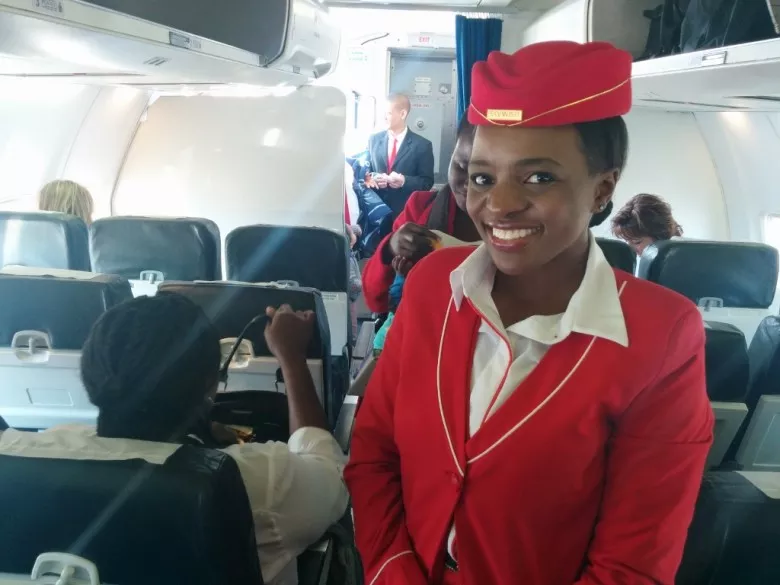 Ensuring that passengers are made comfortable

Able to keep calm and show positive behaviour.

Able to show excellent interpersonal skills

Able to relate with people of different cultural backgrounds without discrimination.

Ability to sit and stand for a long time as well as be physically healthy.
Usually, before a flight takes off, there will be a meeting, and during this meeting, every member is assigned to positions of work and informed about all they need to know about the flight, requirements of the passengers and details of the passengers with medical requirements and the number of babies on the flight.
The air hostess makes sure that all safety gadgets are available and in good shape and also ensures that the inner parts of the plane are neat. She also makes sure that the seat pockets have the necessary information and ensures that there is food for the passengers on board.
They warmly welcome passengers boarding the plane and show them to their seats.
An important job is to inform the passengers about the safety measures and procedures
When passengers get on to the plane, the air hostess makes sure that their seat belts are well tightened before the trip.
They serve passengers on board after the flight gets to a stable position.
The air hostess administers first-aid treatment to passengers on board in case of a medical emergency.
They remind passengers to adhere to safety measures in case of an emergency.
They ensure that passengers don't leave any luggage behind after the plane has landed.
Looking at the list of responsibilities stated above, you might be wondering how much they earn in a month.
Air hostess monthly salary in Ghana
Well, an air hostess or flight Attendant in Ghana averagely receives about 3,360 Ghana Cedis in a month. They also receive other benefits like housing and transport allowances.