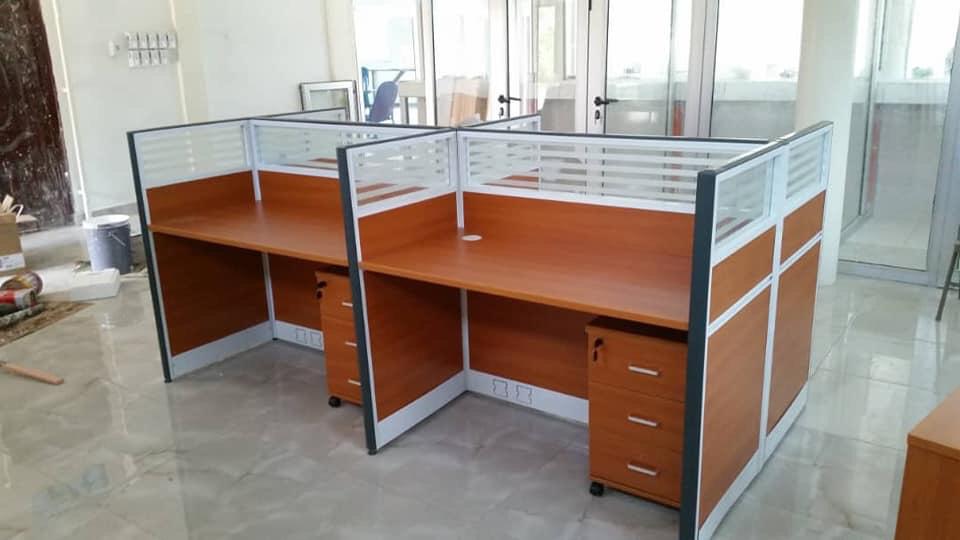 Workstation Desk Prices In Ghana. Full Details
In this post, I am going to bring you accurate workstation desk prices in Ghana and all the necessary information worth knowing about workstation desks. 
Before we get into the prices of workstation desks in Ghana, let's first look at the types of workstation desks available on the market. 
Types Of Workstation Desk 
The office workstation desk is an important part of any employee's job, and nowadays, thanks to technological advancements and ergonomic product availability, it makes one's office more flexible and accessible in nature by providing a plethora of options that allow one to design a workstation based on one's creative ideas, where everyone feels at ease and enjoys working.
Types of workstation Desks 
There are different categories and ranges of workstation desks available on the Ghanaian market that will give your office the rich new look you had always dreamt of. Below are the different workstation desks you can find on the market. 
Linear workstation or Straight workstation

Cluster workstations or L shaped workstations

Single seater workstations

Single pentagon workstation

Four Seater back to back workstation

Four Seater pentagon workstation

Cubicle workstation

Designer workstation

U shaped workstation

F2 screen systems

F3 screen systems
Workstation Desk Prices In Ghana
Below are the various prices of workstation desks prices in Ghana.
JIJI ONLINE 
Four In One Work Station – GHC 5,000.00
Two In One Workstation – GHC 3,400.00
6 In One Workstation – GHC 7,000.00
Workstation Single – GHC 2,700.00
Three Combined Linear Work Station – GHC 14,000.00
Check out Jiji Online to see pictures and more of these workstation desks.
REAP ONLINE
4 In 1 Wooden Desk Station – GHC 4,500.00
Four Workstation Office Desk – GHC 3,800.00
FOUR SEATER WOODEN WORKSTATION – GHC 3,800.00
WORKSTATION FOUR IN ONE – GHC 4,300.00
Check out reap.com to see pictures and more of these workstation desks
Where To Buy Workstation Desks In Ghana 
Visit the showroom of any of the furniture companies below and grab your workstation desks today.
Kingdom Furniture

Orca Deco

Dufie Deco Ventures 

Kings Group Furniture

Furniture City Ghana 

Blue Gallery Home and Office Furniture

Furnmat Ghana Limited

Simbin's Furniture 
Thank You for reading this post. Don't forget to recommend our site, Ghana insider, to your friends and family who might also profit from the information on our website, and check out our other articles because we have more information to bring to you via your devices.
I believe you have any comments or suggestions to drop about this article, kindly make use of the comment box below and reach us for more discussion.
Ghana insider is on the mission to give you insightful knowledge about anything in Ghana; Latest Entertainment news, General news, insurance, banks, mortgage, Farming, product pricing, food, business, and more.