Quads are prone to tipping over because of their high center of gravity. Usually in the German driving license theory test, driver learners are asked the question; "What do you have to consider when driving a quad?" Can you tell the answer? Continue reading this post to broaden your knowledge in the German driving theory test questions and also get an answer to the above question.
German Driving License Topics 
Get used to the following topics below as you prepare for the German driving license theory test:
Defect detection, localization of faults
Driving, driving physics, driving technique
Internal combustion engine, fluids, fuel system, electrical system, ignition, power transmission
Lubricant and antifreeze
Use and maintenance of tires
Braking systems and speed controllers
Trailer coupling systems
Maintaining motor vehicles and arranging timely repairs
Receipt, transport and delivery of goods
Equipment of vehicles
What Do You Have To Consider When Driving a Quad? 
In the German driving theory test, three answer options are provided for the question, "what do you have to consider when driving a quad ?" and one is supposed to choose the correct answer(s).
Question: What do you have to consider when driving a quad?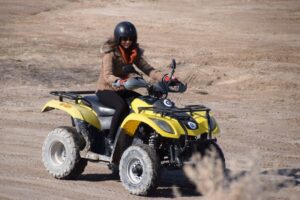 Answer:
Wearing a suitable protective helmet is mandatory
Quads tend to tip over when negotiating tight curves are the correct answers respectively. 
Explanation: One needs to be cautious when driving around tight curves. Speeds that are very high lead to tipping.
More German Driving Theory Test Questions And Answers
1.Your motorcycle is fully loaded. How do you drive downhill on a long pass road?
Answer: take advantage of the engine's braking effect by shifting dow and, don't drive too fast between bends to avoid overheating the brakes
2. When is there a risk that the front wheel of the motorcycle will lift off the road?
Answer: When accelerating hard in low gear and, if the clutch is suddenly released while driving away
3. What happens if you get into too low a gear at high speed and engage the clutch quickly?
Answer: the rear wheel blocks and can break away and a fall is often unavoidable
4. What is correct when cornering on slopes?
Answer: Beforehand, brake so hard that you no longer have to brake in the curve and Initiate and drive curves in such a way that you do not touch the area of oncoming traffic, even if the angle is steep
5. What do you need to consider when taking a passenger with you?
Answer: Driving behavior changes when cornering, especially when driving in and out and the overtaking distance becomes longer, other things being equal.