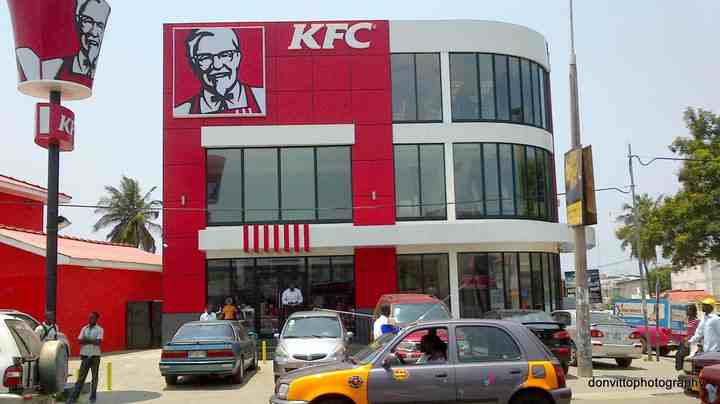 KFC Adenta Menu, Prices, Contacts And More
KFC Adenta offers varieties of menus of which you need to know about. Moreover, you will get to know their prices as well. There is a lot more you will get to know about KFC in today's post. 
About KFC
KFC is a fast food restaurant. KFC is the abbreviated form of Kentucky Fried Chicken. With respect to sales, KFC is the second largest restaurant chain in the world, coming after McDonald. KFC was founded on March 20, 1930 in North Corbin, Kentucky, U.S.
Some of KFC's products include: Fried chicken, Hamburgers, Chicken, sandwiches, Wraps, French fries, Soft drinks, Milkshakes, Salads, Desserts And Breakfast.
KFC Adenta Menu
KFC'S unparalleled cookery is one of the major reasons it has gained much grounds across the world and besides, Ghana to be specific. 
Fast forward, let's delve deeper into KFC Adenta Menu.
Streetwise
1 Piece of Chicken, 2 Lime Chilli Wings and Small Chips

1 piece of Chicken OR or Hot & crispy and a regular chips

2 pieces of Chicken OR or Hot & crispy and a regular chips

2 Pieces of Chicken OR or Hot & Crispy and Fried Rice

3 Pieces of Chicken OR or Hot & Crispy and Fried Rice

3 pieces of Chicken OR or Hot & crispy and a regular chips

5 Pieces of Chicken and Large Chips
Burgers
Zinger/Colonel Burger, Regular Chips and 300ML Drink

A spicy Zinger fillet topped with fresh lettuce, a slice of tomato & Colonel dressing on a burger bun

An Original Recipe fillet topped with fresh lettuce, a slice of tomato & Colonel dressing on a burger bun
Twisters
Zinger/Colonel Boxmaster, Regular Chips and 300ML Drink

Zinger/Colonel Twister, Regular Chips and 300ML Drink

BoxMaster (Colonel/Zinger Sauces)

Twister (Colonel/Zinger Sauces)
Drinks
Coca Cola 500ml

Fanta Orange 500ml

Sprite 500ml

Water 500ml

Coca Cola 300ml

Fanta Orange 300ml

Sprite 300ml
Sides
6 Lime Chilli Wings

12 Lime Chilli Wings

Chicken Pops – Regular

Chicken Pops – Large

6 Crispy Strips

3 Chicken Strips

Cheese

Hash Brown

1 piece Original Recipe or Hot & Crispy

2 piece Original Recipe or Hot & Crispy

Large Chips

Regular Chips

350 Gram

Coleslaw

Shito

4 Sachets of Ketchup
Box Meal
Fully Loaded Meal (1 Zinger/Colonel Burger, 1 Piece of Chicken, Regular Chips, Coleslaw and 300ML Drink)

Wicked Zinger Meal (1 Zinger Burger, 4pcs Lime Chilli Wings, Regular Chips, Coleslaw and 300ML Drink)
Dessert
Chocolate Milkshake (Chocolate Flavour)

Strawberry Milkshake (Strawberry Flavour)

Regular Oreo Krusher

Regular BlueBerry Krusher

Mini Oreo Krusher

Mini BlueBerry Krusher

Sundae Plain (Vanilla / Chocolate Sundae)

Soft Twirl (Soft Twirl)
Buckets
9 pieces of Original Chicken or Hot & Crispy

12 pieces of Original Chicken or Hot & Crispy

15 pieces of Original Chicken or Hot & Crispy

18 pieces of Original Chicken or Hot & Crispy
Family Sharing
10 Pieces of Chicken, 2 Large Chips and Coleslaw GH¢99.00

6 Pieces of Chicken,

4pcs

Lime Chilli Wings/ 4 Pcs Crispy Strips, 2x Regular Chips, 2x KFC Fried Rice, 2x Coleslaw and 3x 300ML Drinks GH¢132.00

5 Pieces of Chicken and Large Chips GH¢49.00
KFC Adenta Menu Prices
Menu
Price (GH¢)

1 Zinger Burger, 4pcs Lime Chilli Wings, Regular Chips, Coleslaw and 300ML Drink

60. 00

Chocolate Flavour 

16. 00

5 Pieces of Chicken and Large Chips 

49. 00

3 Pieces of Chicken OR or Hot & Crispy and Fried Rice 

31. 00

3 pieces of Chicken OR or Hot & crispy and a regular chips 

29. 00

2 Pieces of Chicken OR or Hot & Crispy and Fried Rice 

24. 00

2 pieces of Chicken OR or Hot & crispy and a regular chips 

22. 00

1 piece of Chicken OR or Hot & crispy and a regular chips 

15. 00

1 Piece of Chicken, 2 Lime Chilli Wings and Small Chips 

20. 00

An Original Recipe fillet topped with fresh lettuce, a slice of tomato & Colonel dressing on a burger bun 

26. 00

A spicy Zinger fillet topped with fresh lettuce, a slice of tomato & Colonel dressing on a burger bun 

26. 00

Zinger/Colonel Burger, Regular Chips and 300ML Drink 

39. 00

Colonel/Zinger Sauces 32.00




Colonel/Zinger Sauces 26.00




Tower Burger 

32. 00

Zinger/Colonel Twister, Regular Chips and 300ML Drink

39. 00

Zinger/Colonel Boxmaster, Regular Chips and 300ML Drink 

45. 00

5 Pieces of Chicken and Large Chips 

49. 00

6 Pieces of Chicken, 4pcs Lime Chilli Wings/ 4 Pcs Crispy Strips, 2x Regular Chips, 2x KFC Fried Rice, 2x Coleslaw and 3x 300ML Drinks 

132. 00

10 Pieces of Chicken, 2 Large Chips and Coleslaw

99.00

18 pieces of Original Chicken or Hot & Crispy 

149.00

15 pieces of Original Chicken or Hot & Crispy 

130.00

12 pieces of Original Chicken or Hot & Crispy

110.00

Regular Oreo Krusher 

15.00

Strawberry Flavour 

16.00

Regular BlueBerry Krusher 

15.00
KFC Adenta Opening Hours
Monday (9am – 12am)

Tuesday (9am- 12am)

Wednesday (9am – 12am)

Thursday (9am – 12am)

Friday (9am – 2am)

Saturday (9am – 2am)

Sunday (9am – 2am)
KFC Adenta Contact Information
Phone Number: 030 290 6093/ 030 825 1000