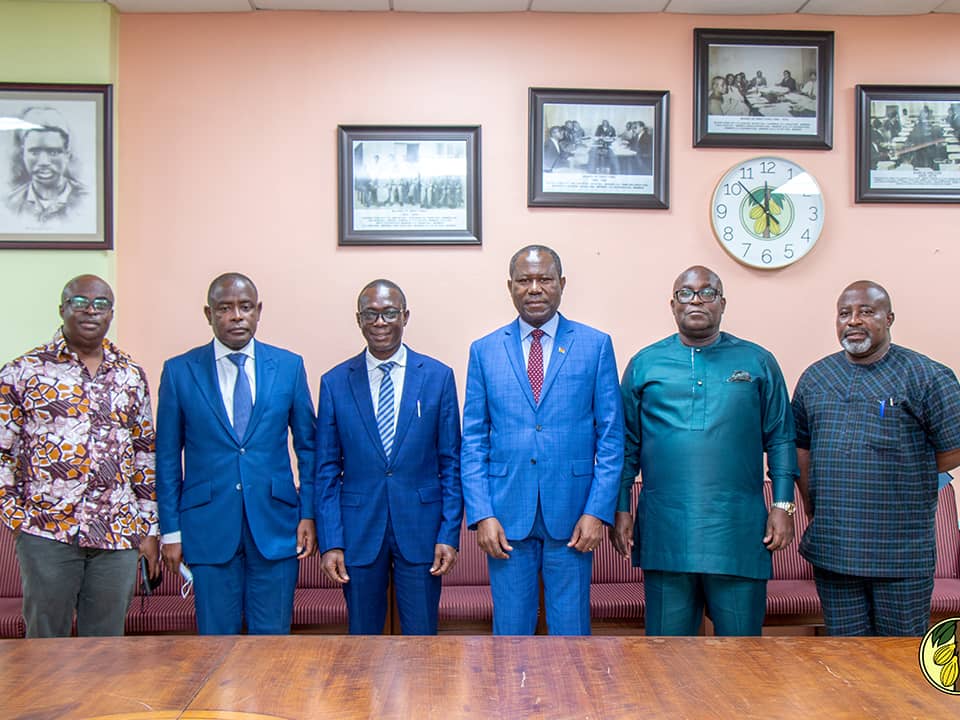 Cocobod Board Of Directors. Complete List
The Ghana Cocoa Board (COCOBOD) is a government-controlled entity in Ghana that sets the cocoa buying price. Farmers are safeguarded from the world market's fluctuating prices through price-fixing. Aside from selling higher-quality hybrid seeds, the firm also researches illnesses that affect cocoa plants.
COCOBOD is governed by a Board of Directors chosen by the government. It comprises government nominees from diverse fields, a COCOBOD worker representative, and two members of the Cocoa, Coffee, and Sheanut Farmers' Association.
There are nine Directorates at COCOBOD Head Office responsible for Human resources, Research Monitoring and Evaluation, Audit, Finance, Procurement, Health, Legal, Special Services (Security & Intelligence) and General Services (Estates, Civil works & Transport).
There are also Departments/ Units that Departmental Heads lead. The Chief Executive reports directly to the Public Affairs Department, Scholarship and Information Systems Unit, Legal, and Public Affairs departments, while the Scholarship department reports to the Deputy Chief Executive (Ops).
I will take you through a complete list of the current board of directors governing the Cocoboard organization in this post. 
Below is the complete list of board of directors governing the Cocoboard organization. 
1. HON JOSEPH BOAHEN AIDOO (CHIEF EXECUTIVE)
Ghana Cocoa Board CEO Joseph Boahen "JB" Aidoo was appointed to the role in January 2017. Mr Aidoo served as Regional Minister for Ghana's Western Region under former President John A. Kufuor's government from 2000 to 2006, and as a Member of Parliament for the New Patriotic Party in the Western Region from 2000 to 2012.
He worked as a researcher at the University of Science and Technology's Institute for Land Management and Development in Kumasi (Ghana). He studied and wrote extensively about land tenure and cocoa.
2. MR. E. RAY ANKRAH – Deputy Chief Executive (Finance & Administration)
Mr Ray Ankrah is a Chartered Accountant and Chartered Global Management Accountant with extensive experience, solid technical knowledge, excellent communication skills, strong analytical skills, and working well with others. He is a powerful leader who is motivated by a strong desire to help others.
He graduated from Kingston University in the United Kingdom with a postgraduate diploma in strategic financial management. He got the opportunity to work in audit in Liberia, where he gained vast knowledge in auditing large corporations and small and medium businesses.
3. DR. EMMANUEL ADEM OPOKU – Deputy Chief Executive (Operations)
Dr Emmanuel A. Opoku is a Ghanaian economist who specializes in the economics and management of cocoa. He has been a successful campaigner in Africa for sound and sustainable cocoa farming.
His commitment has driven Dr Opoku's career to the growth of Ghana's agriculture industry. He is a skilled professional whose knowledge and experience in the cocoa economy and business transcend national and international borders.
Dr Emmanuel A. Opoku is a cocoa industry pioneer, researcher, and consultant with 28 years of experience in Ghana. He is currently the Operations Deputy Chief Executive of the Ghana Cocoa Board (COCOBOD).
4. DR. EMMANUEL AGYEMANG DWOMOH – Deputy Chief Executive (Agronomy & Quality Control)
Dr. Emmanuel Agyemang Dwomoh, Deputy Chief Executive of Ghana Cocoa Board (COCOBOD), is in charge of Agronomy and Quality Control. 
Other Board Of Directors include: 
5. MR. PETER OSEI-AMOAKO ( Director, Finance)
6. DR. MRS. AGNES OWUSU-ANSAH (Director, Scholarship)
7. MR. FRANCIS AKWASI OPOKU (Director, Legal Services/ Solicitor Secretary)
8. MR. CHARLES ASAMOAH-FRIMPONG (Director, Audit)
9. MR. ERNEST O. DUODU (Director, General Services)
10. MR. EMMANUEL TWUMASI (Director, Research, Monitoring & Evaluation)
11. MR. RANDOLPH JOHN ADEI (Director, Human Resource)
12. MR. CHARLES AMENYAGLO (Director, Special Services)
13. MR. VINCENT OKYERE AKOMEAH (Managing Director, Cocoa Marketing Company)
14. DR. GILBERT ANIM-KWAPONG (Director, Monitoring & Evaluation of CODAPEC/HI-TECH)
15. DR. EMMANUEL NII TACKIE (Executive Director, Cocoa Health and Extension Division)
16. MR. JULIUS M.K.O. MARTINSON (Ag. Managing Director, Quality Control Limited)