Rachel Weisz is a British-American actress who was born on March 7, 1970. She was born to George Weisz and Edith Ruth in Westminster, London but grew up in the suburb of Hampstead Garden.
Her father was a Hungarian Jewish and a Mechanical Engineer and her mother was a teacher who later became a psychotherapist. Rachel Weisz's father died in 2020 but her mother died earlier in 2016.
Before World War II , Rachel Weisz's parents migrated to the United States as kids. With respect to education, Rachel Weisz initially attended the North London Collegiate School but left for Benenden School for a year and ended up completing her A-levels at St.Paul's Girls School.
At the tender age of 14, Rachel Weisz took to modeling and in 1984, she got fame, recognition and attention when she turned down an offer to star alongside Richard Gere in King David.
She read English at Trinity Hall, Cambridge and graduated successfully with Second Class Upper honors At Trinity Hall, Cambridge, Rachel Weisz was a founding member of a student drama group called Cambridge Talking Tongues and she took part in several drama productions.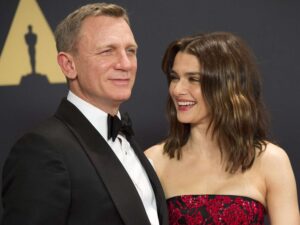 Rachel Weisz began acting in British stage and Television productions in the 1990s and successfully debuted in Death Machine in 1994. For her role in the 1994 revival of the play Design For Living, Rachel Weisz won a Critics' Circle Theatre Award.
In 1999 she made an appearance in Suddenly, Last Month. Other productions she has been involved in include The Mummy(1999), The Mummy Returns (2001), Enemy at the Gates (2001) as well as About A Boy (2002). Runaway Jury (2003), Constantine (2005), The Fountain (2006), Fred Claus(2007) as well as The Lovely Bones (2009) can also be counted as some of the movies she has starred in.
Rachel Weisz is married to Daniel Craig and together they have two children. Daniel Craig was born on March 2, 1968, to Carol Olivia who was an art teacher and Timothy John Wroughton Craig, a steel erector and a midshipman. Daniel Craig is part Welsh and French and has an older sister named Lea.
Daniel Craig has her middle name as Wroughton which he took from his great-great-grandmother, Grace Matilda Wroughton. The parents of Daniel Craig divorced in 1972. Together with his mother and sister, they moved to the Wirral Peninsula.
Daniel Craig attended Primary school in Hoylake as well as Frodsham. He also attended the Hilbre High School and at age 16, he enrolled at Calday Grange Grammar School as a sixth-form student.
Daniel Craig is an actor and he started acting when he was only 6 years old. He made his debut in the production of Oliver undertaken by Frodsham Primary school and sooner than later, he became extremely interested in acting.
In 1982 when Daniel Craig was only 14 years old, he played roles in Romeo and Juliet and Cinderella. He was accepted into the National Youth Theater in 1984 and performed with them on tours to Valencia and Moscow.
In 1988, Daniel Craig attended the Guildhall School of Music and Drama and completed in 1991 with guidance coming from Colin McCormack who was an actor from the Royal Shakespeare Company.
Daniel Craig gained international prominence when he played the role of James Bond for five installments in the film series, from Casino Royale (2006) through to No Time To Die in 2021.