"What basic rules of conduct do you have to observe in the tunnel"?, is one of the questions that every driver learner is expected to know. Usually in the German driving license test, driver learners are required to answer the above mentioned question. You can read further to equip yourself and also get the answer for the above question.
As you read further, you are going to be equipped because other German driving license theory test questions are also in this article with their appropriate answers.
German Driving License Topics
There are related topics below you should be conversant with as you prepare for your German driving license theory test.
Basic forms of traffic behavior
Behavior towards pedestrians
Darkness and poor visibility
Road and weather conditions
Overtaking
Speed
Alcohol, drugs, medication
Special traffic situations
What Basic Rules Of Conduct Do You Have To Observe In The Tunnel?
In the German driving theory test, you will be given three answer options for the question, "what basic rules of conduct do you have to observe in the tunnel?". You are expected of you to choose the right or appropriate answer(s).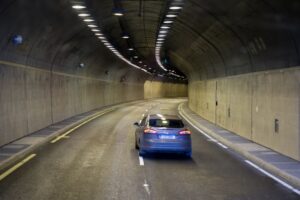 Question: What basic rules of conduct do you have to observe in the tunnel?
Answer:
Even during the day, drive with low beam in well-lit tunnels.
Do not turn in a tunnel. More importantly, follow instructions and information from tunnel staff.
Explation: First of all, risks that could cause accidents must be avoided in the tunnel. This also includes turning. Then also, with respect to StVO Section 17 Paragraph 1, we must switch on the required lighting when visibility requires it. In the tunnel, regardless of the fact that sometimes good lighting, it is always necessary to switch on the low beam. Lastly, the tunnel staff steps in during special cases or emergencies. Thus, his statements should be followed so as not to put anyone in a risky situation.
More German driving theory test questions with their answers
1. What should you expect if a truck in front of you wants to turn right onto a narrow Street?
Answer: The truck will greatly reduce its speed and, also before turning left, the truck will pull out.
2. What do you have to pay particular attention to at intersections and junctions in urban areas?
Answer: Intersecting or connecting streets may be given priority, even though they are narrow and less well developed.
4. Why do you have to be particularly careful here?
Answer: Because there is an increased risk of slipping when braking and also, because a vehicle could come from the right.
5. In front of you a large combine harvester wants to turn right. What is right?
Answer: The combine will swing far to the left when turning and the combine will slow down very slowly before turning.
6. You are driving behind an agricultural vehicle with a heavily loaded trailer. what do you have to expect?
Answer: Parts of the load can fall down, especially when braking or turning and the indicators can be hidden, making it difficult to see when the train is about to turn.
7. What can hazard warning lights indicate?
Answer: On broken down vehicles, and on school buses where children get on
or off and to a traffic jam