Types of Passports in Ghana. Full Details
You are probably here because you want to know the various types of traveling passports we have in Ghana.
A passport is a travel document, usually issued by a country's government to its citizens, that certifies the identity and nationality of its holder primarily for the purpose of international travel.
It is important that you know the types of passport before applying for one. This will help you to know the exact amount you are spending as passport application prices differ according to the type.
We are going to give full details of all the types, uses, how to apply, and the respective prices of each.
If you want to apply for passport in Ghana. Click below.
How to apply for a passport in Ghana
Things to note
To get a passport in Ghana, you need to submit an online application on the Ministry of Foreign Affairs and Regional Integration website.
Types of Ghanaian traveling passport
There are three types of Ghanaian passports. They are:
Contemporary passport
Service passport
Diplomatic passport
Now let's have a detailed look at each of them
Regular Passports (also called contemporary or ordinary passport)
This is the most common passport in Ghana. It is solely issued by the Ministry of Foreign Affairs and Regional Integration. It is the regular passport issued to Ghanaian residents by law. Foreign nationals can also apply for this passport provided they meet all the eligibility criteria.
There are two types of the contemporary passport namely: the 32-page and 48-page contemporary passport.
Color of back cover: green
Validity: 10 years
Number of pages: 32/48
Application fees: GHS 200 for expedited 48 pages, GHS 150 for expediated 32 pages, GHS 100 for standard 32 pages and GHC 150 for standard 48 pages.
Information you'll find in this passport are listed below.
Name

Passport number

Nationality

Date of birth

Date of issue

Date of expiry

Place of issue

Authority

Signature

Passport size photograph
Service passport
Also called official passport, this is a special passport issued to government or public sector employees for work-related travels. Public service workers who have been issued this kind of passport are expected to use it for only work-related travels. The regular passport is supposed to be used when the travel is not work-related.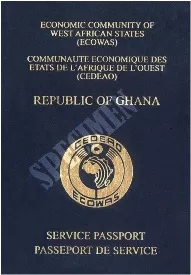 A normal application can't be submitted for this type of passport. Members of Parliament are mostly issued service passports.
Diplomatic Passports
This is another special type of passport issued to diplomats alone. Diplomats include ministers of state, president, commander of security services, etc. Holding a diplomatic passport facilitates easy travel as compared to an ordinary or a service passport.
Eligibility
Wife of a member of government, who accompanies spouse on the journey

Diplomats who are posted outside Ghana, their immediate family members who will be residing with them.

Prominent Ghanaian citizens
Conclusion
There are other passport types in other country. However, the above are the types we have in Ghana.
Thanks for passing by. Share this to your circles.