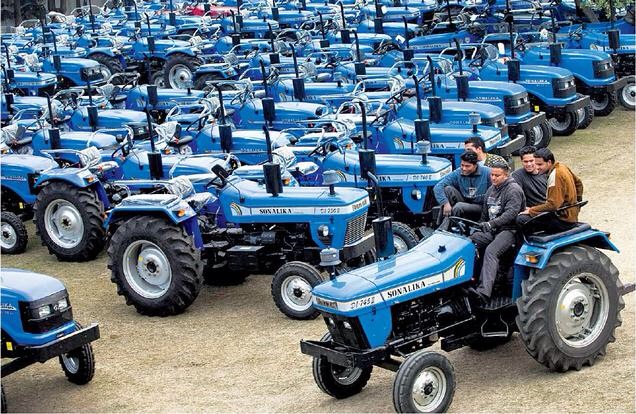 Tractors For Sale In Ghana. Prices And Where To Buy
Have you been wondering where to buy a tractor at an affordable price for your agriculture business? Are you looking for the direct dealers who will give you best deals on tractor prices in Ghana? Then this article is for you.
What Is A Tractor?
A tractor is an engineering vehicle designed to deliver a high tractive effort (or torque) at low speeds for dragging a trailer or machinery used in agriculture, mining, or construction.
The phrase is most usually used to describe a farm vehicle that has the power and traction to automate agricultural activities, most notably (and historically) tillage, but also many others. Agricultural implements can be hauled behind or placed on the tractor, and if the implement is mechanized, the tractor can also provide power.
What To Look For In Tractors
In 2022, you may expect to pay between $8,500 and $75,300 for a tractor. Attachment may be required at an additional cost of up to $3,100.
Here's What You Need To Know:
The reality is that there are many different types and sizes of tractors, and these characteristics will have a significant impact on the price you may anticipate to pay. A decent tractor, on the other hand, may be used for a variety of outdoor jobs and can be used as an all-purpose equipment. You may connect a variety of attachments to perform everything from excavating holes to clearing snow.
Compare Prices On Tractors
When searching for a tractor, the first question to consider is "how much power do I require?" Your tractor's horsepower rating will tell you how capable it is of handling exceptionally heavy-duty chores. A little tractor with roughly 25 horsepower will be at the low end of the price spectrum. These are compact utility tractors that can be used to keep a large yard or garden in order.
Industrial tractors, which have engines of 100 horsepower or more, are utilized in commercial farming activities on the other end of the range. Depending on how many attachments and other features you need, these devices can cost well over $60,000.
What kinds of accessories and tools are suitable with your tractor is another crucial consideration. Although cross-brand equipment usually works well together, there are some benefits to employing equipment from the same manufacturer. It's occasionally a good idea to assess your demands and the accessible attachments.
Finally, be sure you're choosing a popular model with plenty of support and spares. Purchasing an obscure model tractor that appears to be a good price may be a method to save a few bucks when making your initial purchase. However, the first time something goes wrong and you have no way of having your tractor fixed, it will be a decision that you will regret.
What You Can Expect To Pay For Your Tractor
If you want to keep your costs down to $15,200 or less, you'll have to go for tiny, open-cab tractors that are ideal for maintaining smaller properties. If you need to maintain a farm, or if you plan on using your tractor in severe weather and require a cab, expect to invest between $30,500 and $60,100 for top-of-the-line models. Keep in mind that each accessory, such as a bucket, snowplow, or rake, can set you back anywhere from $3085 to $6020.
Typical Uses: Lawn & Garden, Compact Utility, Utility Tractors, 4WD, Farm Tractors
Costs For New Tractors
A basic tractor can be purchased for less than $9,000, while more powerful farming tractors can be purchased for more than $75,000. Keep the following averages in mind:
Mid-size farm tractors with 25hp – 80hp are generally priced from $22,700 to $49,000.
Bigger tractors that come with 100 hp and 4-wheel drive are a bit more costly, ranging from $55,000 to $70,000.
The most powerful tractors with 150 hp are going to cost at least $72,120 and in some cases will exceed $120,090.
Don't Forget Cost of Attachments
A tractor rake costs just $352 -$6040.
Loader attachments for tractors are priced $2,540 to $4,570.
Backhoe attachments on tractors cost the most and can run $4,000 – $7,007.
Where To Buy A Tractor In Ghana
Tractors PK (Tractors for Sale in Ghana)
Address: Graphic Communications Group Ltd, Graphic Rd, Accra
Phone: +92 320 2390002
Massey Ferguson Tractors in Ghana
Address: Graphic Rd, Accra
WEST AFRICA AGRO-TECH COMPANY GHANA LTD (WAATCO)
Address: Accra
Phone: 030 278 2014
Ghana Agribusiness Centre
Address: Orphan Cres, Accra
Phone: 020 517 2223
Agroasia Tractors Ghana
Address: Plot No. A 221, 00233, Accra
GREENAHOPE
Address: 13B Achimota Road, Accra
Phone: 024 371 9296
BIGA International Ltd.
Located in: Kaneshie Cluster of Schools
West Africa Machinery & Tractor Co.
Address: AN5896 Accra