Stephen Curry is an American professional basketball player who was born to  Sonya and Dell Curry. He was born in Akron, Ohio at Summa Akron City Hospital and grew up in Charlotte, North Carolina.
His father was then with the Charlotte Hornets for his NBA career. Stephen Curry has a younger brother called Seth Curry who is currently an NBA player. Stephen Curry plays with the  Golden State Warriors and he is known to be one of the greatest basketball players of all time as well as the greatest shooter in the history of the NBA.
On two different occasions he has been named the NBA Most Valuable Player and also has four NBA Championships to his credit. Other awards he has won include the NBA Finals MVP Award and  NBA All-Star Game MVP Award and interestingly, Stephen Curry is credited with the revolution that has inspired teams and players to concentrate more on three-point shots.
During the 2012–13 season of NBA, Stephen Curry set the record for the most three-pointers made in a season. He made as many as 272 three-pointers and it's quite impressive and remarkable. In the 2015 and 2016 season of the NBA , he surpassed the record he set in the 2012-2013 season.
He has 286 three-pointers in 2015 and 402 three-pointers in 2016. Stephen Curry led Warriors  to win their first championship since 1975 and as a player, he won his first league MVP. He was unanimously voted as the Most Valuable Player in the next season.
Before becoming a professional basketball player, Stephen Curry played college basketball for the Davidson Wildcats. He won Conference Player of the Year on two different occasions and he also had the most three-pointers.
As good as he is, Stephen Curry had his first experience with the United States national team in 2007 during the FIBA Under-19 World Championship and he helped his country to win a silver medal.
Three years later, he got an invitation to be part of the senior team and had some amount of playing time at the 2010 edition of the FIBA World Championship. In that tournament, Team USA won the gold medal.
In 2014, Stephen Curry became more involved and played a key role in the national team and helped the team to win the 2014 World Cup but unfortunately withdrew from the 2016 Olympics due to injury.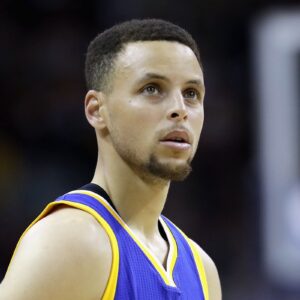 He has several awards and honors to his credit and some include ;
NBA record for highest career free throw percentage (90.9%, minimum 1,200 attempts)
NBA record for most consecutive seasons leading the league in made three-point field goals     (5)
NBA record for most consecutive games (regular and post-season) with a made three-pointer (233)
NBA record for most points scored in an overtime period (17
NBA regular season record for most three-point field goals made in a season (402
Warriors franchise leader in points in playoffs (3,600+)
Warriors franchise leader in three-point field goals made in playoffs (560+)
Warriors franchise leader in free throws made in playoffs (640+)
Warriors franchise leader in free throw percentage in playoffs (89%+, minimum 400 attempts)
He has also won the following awards among others;
Laureus World Sportsman of the Year nominee (3): 2016–17, 2023
ESPY Award for Best Male Athlete: 2015
ESPY Award for Best NBA Player (3): 2015, 2021–2022
ESPY Award for Best Record-Breaking Performance (2): 2016, 2022
ESPY Award for Best Breakthrough Athlete nominee: 2008
BET Award for Sportsman of the Year (5): 2015–17, 2019, 2022
Jackie Robinson Sports Award: 2021
Hickok Belt: 2015
AP Male Athlete of the Year: 2015
Sports Illustrated Sportsperson of the Year (2): 2018 (as a team), 2022
Jefferson Award for Public Service: 2011
Key to the City of Charlotte: 2022
Academy Award for Best Documentary Short Film (as executive producer of The Queen of Basketball): 2022
Stephen Curry Height
As a basketball player, one needs to be very tall to be very effective and efficient. Stephen Curry stands at  6 feet 2 inches (1.88 m)
Stephen Curry Age
Stephen Curry was born on March 14, 1988. Based on this, it means he is currently thirty-five years old.