Shatta Wale's Net Worth, Businesses & More
The net worth of Shatta Wale has been a topic of curiosity for many Ghanaians, especially his fans.

We bring you every detail of his wealth.
Shatta's Biography
Charles Nii Armah Mensah Junior, popularly known as Shatta Wale in music circles, and formerly referred to as Bandana, was born at the Police Hospital in Accra on 17th October, 1982.
His father named him after himself and his mother's name is Elsie Evelyn Avemegah. His father is into business, politics and law. Shatta Wale had his basic education at Seven Great Princes Academy which is located in Dansoman, Accra.
Dancehall artiste, Shatta Wale mentioned that it was his father who made him develop the love he has for music and the type of music he is into now.
While he was at Seven Greats, he was featured in : "By the Fireside", which was a well-known television program back then.
.
Shatta's Properties and Assets

Shatta Wale acquired a new house worth 1 million dollars. He also purchased a Range Rover in addition to the Prado, Toyota, Benz, Chevy, Camaro and other Range Rovers he already has.
The location of his house remains undisclosed. According to him, he has nine cars and three mansions.
Shatta Wale has been ranked as one of the most influential artists in Africa.
Shatta Wale's Wife And Children
Shatta Wale currently has no wife but was in a romantic relationship with Michelle Diamond. They are said to have met on Facebook some years back.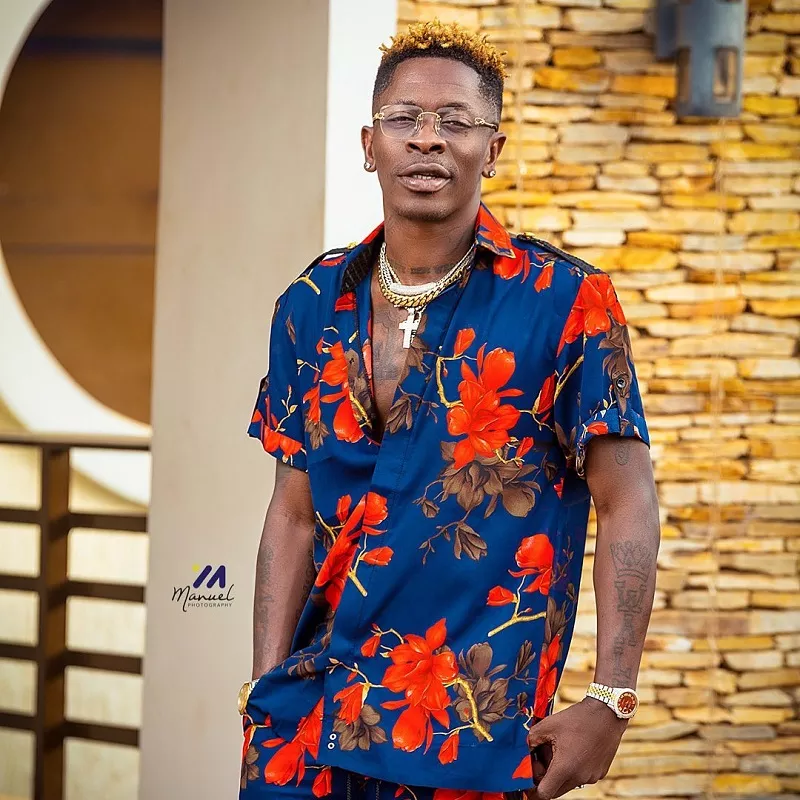 Michelle is also known as Mitchy lived in Norway for some time before coming to Ghana. However, their relationship ended in 2019. The dance hall artiste has three children: two sons and one daughter namely Majesty, Papa Nii Jedidiah and Winnie. Mitchy and Shatta's son is Majesty.
Shatta Wale's Net Worth
The reggae-dancehall musician is one of the most affluent in Ghana as we speak, with a net worth of about 6.3 million dollars as of 2021.
This is not surprising because Shatta Wale is not only a musician but also an actor, producer and brand ambassador of Guinness Ghana Breweries and Rush Energy Drink. He is also the CEO of Shatta Movement.
Shatta Wale's Career
Shatta started doing music in Winneba Senior High School. There, he learnt how to play musical instruments and began composing music.
He was known by the stage name: "Doggy" while he was there. His song "Moko Hoo" featuring Tinny won him a nomination in the Ghana Music Awards.
Shatta Wale is known to be the originator of the Shatta Movement, however, around 2013, some group of people came out with the claim that they were the ones who brought about the "Shatta Movement".
They claimed that the reason behind its existence was to help promote ghetto youth who are thriving in a field they prefer and have chosen. They further stated that Shatta Movement does not spell violence but rather is aimed at being a family, therefore one person cannot claim it as his own.
Bandana was the name he was known by until he strategized and came back in 2013 with the professional name Shatta Wale after about ten years of inactiveness.
Shatta won the artiste of the year in 2014's Ghana Music Awards with his single; "Dancehall King". He had the opportunity to travel to Jamaica to increase his learning in dancehall music.
Concerning acting, he has been featured in the movies: "Never Say Never" and "Shattered Lives". He won eight awards at the 3MusicAwards in 2019.
In 2018, he joined Zylofon Music and signed up with them for three years. This agreement allowed Zylofon Media to manage all business activities of Shatta Wale's brand.
His recordings, distribution and marketing were to be managed by them. He had an alliance with Beyonce in the song: "Already" which was part of her 'lion king" album.