If you're looking for restaurants in East Legon that serve both high quality local and continental dishes, then this post will be of a great help to you. We have provided you with information on some of the best restaurants in East Legon. You will find more about their menus, pricing, location, delivery options, contact informations and etc.
Top Restaurants In East Legon
Below is the list of the top restaurants in East Legon. Take note, the list is in no particular order and also, it is limited.
Starbites Restaurant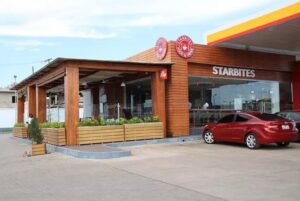 Starbites is an award winning restaurant as well as an ISO certified restaurant. It begun operation in 2011. Starbites restaurant has beautiful furnishings and flowers all over.
During the weekends, you can go to Starbites and relax as you enjoy some good music or even a live band. Sports lovers can equally enjoy their football games at Starbites restaurant.
At starbites restaurant, you are served with a variety of foods. The menu covers breakfast, lunch, brunch, dinner, dessert and drinks.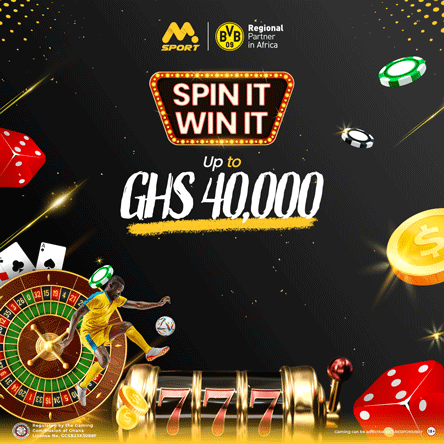 Starbites' breakfast may include: waffles, hot chocolate, breakfast tea, american breakfast, assorted flavours, cheese omelette and many more.
Starbites' lunch may include: african hot pizza, assorted fried rice, assorted noodles, beef fried rice, chicken kebab, jollof and many more.
Starbites' brunch may include: avocado, buffalo wings, chicken burger, tuna and many more.
Starbites' dinner may include: assorted noodles, beef fried rice, chicken fried rice and many more.
Starbites' dessert may include: pancakes, waffles, ample crumble pie and many more.
Starbites' Location: 2 Jungle Ave, East Legon, Boundary Rd. Accra, Ghana.
Starbites' Contact Information: +233 202 266 204/ +233 501 318 345 or [email protected]
Noble House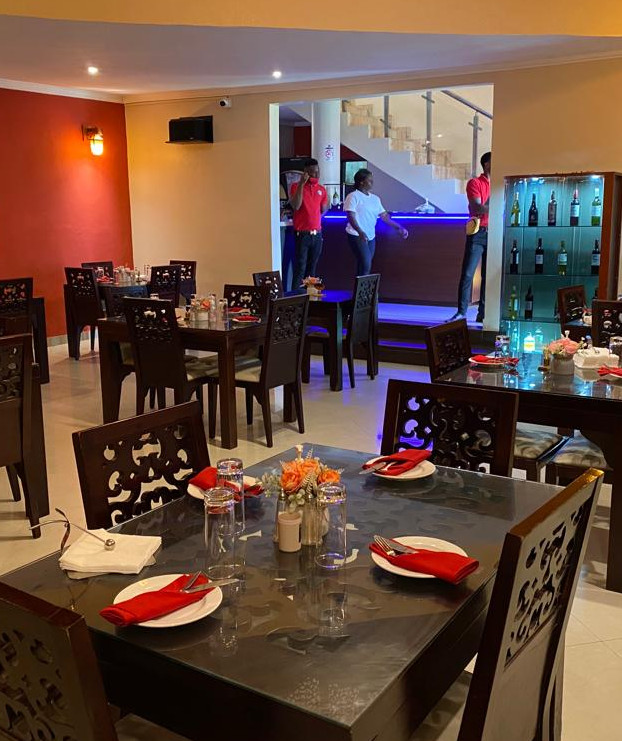 Noble House is an independently-owned Chinese & Indian restaurant. They have varieties of both local and continental meals. Their food stands out for its large portions, aromatic smell, rich and consistent flavors, and diversified colors.
You will be well welcomed by Noble House to enjoy your delicious meals. Their meals include coffee, milkshake, seafoods, drinks of various kinds, noodles of different kinds, fried rice, jollof rice, beef, pork, ice cream, breads, yoghurt and many more.
Noble House Location: Lasa Street, Boundary Road near American House, East Legon, Ghana
Noble House Contact Information: +23354 234 7597
KFC East Legon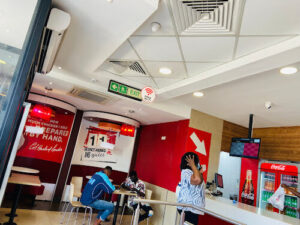 KFC is a well-known fast food chain across the world, having not less than 1000 restaurants in Africa. KFC East Legon is one of the outstanding restaurants in Accra, where you can get most of your delicious meals at affordable prices.
There are wide varieties of meals served at KFC and these include: twisters, sides, drinks, dessert, burgers, chocolate milkshake, jollof, colonel rice, cheese and many more.
KFC East Legon Location: 47 Lagos Ave, Accra.
KFC East Legon Contact: 020 172 5363/ 030 825 1000.
Honeysuckle Pub & Restaurant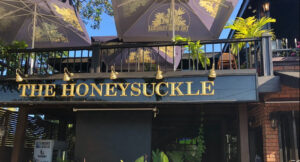 The Honeysuckle is a sports bar, however it welcomes its customers with some good music, delicious meals and drinks. This restaurant welcomes you and your family as it serves as one of the best restaurants where you can relax.
At honeysuckle, meals such as breakfast, burgers, pasta & pizza, sea food, french fries, boiled/fried plantain, french fries, wedges, sweet potato fries, roasti, fried rice, jollof rice, plain rice, veg jollof rice, mashed potatoes, potato salad, yam chips/boiled yam , kelewele, sautéed veg, boiled/fried plantain and etc are served.
Honeysuckle Location: A & C MALL, East Legon
Honeysuckle Contact Information: +233245615128 / +233593040495
DNR Turkish Restaurant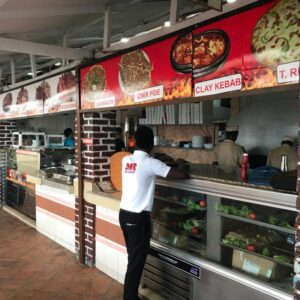 DNR Turkish Restaurant is one of the best restaurants in Accra, East Legon to be specific. It was founded by Zekeriya Kizilova and Ugur Daler in 2010.
Meals served at DNR Turkish Restaurant include: breakfast (roma, berlin, vienna, paris, london, etc), salad, appetizer, burgers, wrap, chicken, beef, lamb, Ottoman's Dish, mixed kebab, pizza, pie, vegetarian (samusa, cheese macaroni, spring roll, cheese macaroni, stroganoff macaroni, tomato macaroni, etc), dessert (tulumba, cake, ice cream, european fruit salad, etc) drinks, etc.
At DNR Turkish Restaurant, it is your right to enjoy free Wi-Fi, DSTV. Also, a free playground for children.
DNR Turkish Restaurant Location: 6 Lagos Ave, Accra, Ghana
DNR Turkish Restaurant Contact Information: (+233) 302 544 244/ (+233) 200 290 823
PotBelly Shack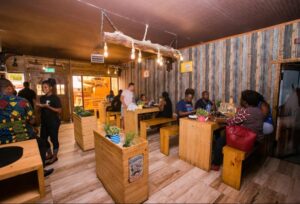 Obviously, there have been many positive reviews about Potbelly Shack as one of the outstanding restaurants in East Legon. What makes PotBelly Shack stands out is their good customer care services, high quality meals and, their welcoming and charming ambience.
There are a range of meals available at Potbelly Shack and these are: burgers, hotdogs, grilled chicken wings, pork, fish and chips, etc.
Potbelly Shack Location: Adjiringano Road, Accra
Potbelly Contact Information: 050 488 4994, 050 488 4995 or 050 488 4996
Chez Afrique
Chez Afrique serves great meals such as grills & fries, banku & tilapia, rice dishes, winery and etc at very affordable prices.
It is worth stating that, Chez Afrique also serves their customers with live band music on fridays from 7pm. The band performs all kinds of music such as highlife, jazz-reggae, random hits and etc.
Chez Afrique Location: Bissau Avenue, East Legon
Chez Afrique Contact Information: 055 878 8509
Papas Pizza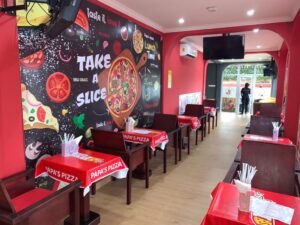 Papa's Pizza is a well-known fast food restaurant specialized in Pizza Making. Use the link here to find the more about Papas pizza.
Papas Pizza Location: on the Bawaleshie-American House road (100 freetown avenue).
Papas Pizza Contact: 0302 739 022/ 0241 150 555
Eddy's Pizza
Contact: 0234133397
Marwako Restaurant
Contact: 0501553454
Coco Vanilla
Contact: 0544368640
Living Room Restaurant
Contact: 0302916494
True Nôte Restaurant and Lounge
Contact: 0506695447
Wonder Wings
Contact: 0245624883
Peterpan Restaurant
Contact: 05777137701
Sauce Restaurant & Lounge
Contact: 0550387373