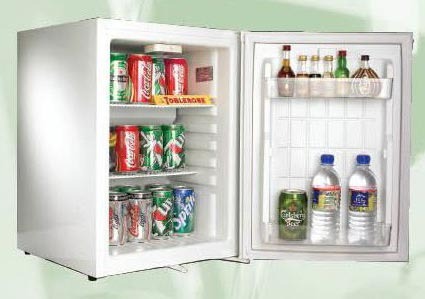 Prices Of Table Top Fridges In Ghana
In todays article, we are bringing to you the prices of table top fridges in Ghana 2022, where to buy them and also, help you get to know more about fridges.
A refrigerator is a commercial and residential appliance that consists of a thermally insulated compartment and a heat pump (mechanical, electronic, or chemical) that transfers heat from its interior to its external environment, allowing the interior to be cooled to a temperature below room temperature.
The refrigerator should be kept at or below 4 degrees Celsius (40 degrees Fahrenheit), and the freezer at or below 18 degrees Celsius (0 degrees Fahrenheit). Refrigeration is a common food preservation method used all over the world.
Because germs reproduce at a slower pace at lower temperatures, the refrigerator lessens the rate of deterioration. The temperature of a refrigerator is kept a few degrees above the freezing point of water.
3 to 5 °C (37 to 41 °F) is the ideal temperature range for perishable food preservation. A freezer is a similar device that keeps the temperature below the freezing point of water. The icebox, which had been a typical domestic appliance for nearly a century and a half, was superseded by the refrigerator.
Below Are Prices Of Table Top Fridges In Ghana 2022
| | | |
| --- | --- | --- |
| Product | Brand | Price Gh¢ |
| NASCO 70LTR TABLE TOP REFRIGERATOR | NASCO | Gh¢ 689.00 |
| NASCO 80LTR TABLE TOP REFRIGERATOR | NASCO | Gh¢ 699.00 |
| MIDEA 100LTR TABLE TOP FRIDGE-FGG31 | MIDEA | Gh¢ 899.00 |
| MIDEA FRIDGE TABLE TOP HS-65LN 60L WHITE | MIDEA | Gh¢ 899.00 |
| MIDEA HD-113F(N) 90L DOUBLE DOOR TABLE TOP FRIDGE | MIDEA | Gh¢ 999.00 |
Freezers are utilized in both residences and industry and commerce. Commercial refrigerators and freezers had been in use for about 40 years before they became popular in homes. Until modern, side-by-side refrigerators bucked the pattern, the freezer-over-refrigerator configuration had been the standard since the 1940s.
In most refrigerators, refrigerator–freezers, and freezers, a vapor compression cycle is used. Automatic defrosting, cooled water, and ice from a dispenser in the door are all features of newer refrigerators.
Refrigerators and freezers for food storage in the home come in a variety of sizes. Peltier-type refrigerators for chilling beverages are among the tiniest. A big residential refrigerator with a capacity of 0.6 m3 can be as tall as a person and as wide as one metre (3 ft 3 in) (21 cu ft).
Free-standing refrigerators and freezers are available, as well as those that are integrated into a kitchen. The refrigerator enables modern households to keep food fresh for longer periods of time than previously possible. Freezers enable consumers to buy perishable food in large quantities and consume it at their leisure, as well as make bulk purchases.
Where To Buy A Table Top Fridge In Ghana
Table top refrigerators are available at a variety of reputable stores and websites in the country, including Jumia, Meclome, Game, Jiji, Ghanabuysell, Tonaton, and others.
Thank you for reading this post from Ghana Insider as your number one portal for everything Ghana. Don't forget to tell a friend to tell a friend about our amazing and informative content we share with you daily.
We hope to see you back as we are poised to bringing you more informative articles about everything in Ghana.