In this guide, we will be looking at the price of Nikon cameras in Ghana and how the cameras will stand to benefit you in your profession.
No camera company is flawless, but there's no disputing that Nikon now offers an outstanding selection of cameras. There is probably a camera out there for your needs, whether you're a beginner or a pro, DSLR or mirrorless.
Understanding Nikon Cameras
First and foremost, you should be aware that Nikon cameras fall into two categories: DX and FX.
This essentially indicates the size of the camera's sensor. More than any other camera element, even something as unimportant as megapixel count, sensor size affects image quality. Because of this, every DSLR now available will outperform a smartphone in terms of image quality.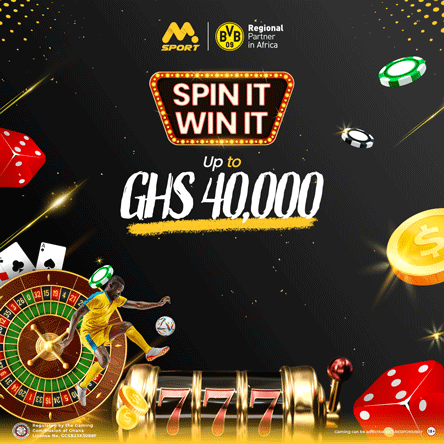 DX is more compact: 23.5 15.6 mm
FX is larger 35.9 mm by 23.9 mm.
FX is roughly 1.53 larger in each dimension, resulting in an area that is roughly 2.34 times larger.)
So using FX cameras will give you higher image quality. They also frequently cost more, though.
Nevertheless, the sensors of Nikon's point-and-shoot cameras are substantially smaller than those of DX and FX. They only measure 6.2 4.6 mm (more like the same as a smartphone, just  bigger by a small margin).
FX sensors are a whooping 30 bigger in area in comparison.
DSLR And Mirrorless Nikon Cameras
Benefits of mirrorless technology include: smaller and lighter design, more contemporary features, electronic viewfinder, and access to an incredible selection of Nikon Z mirrorless lenses.
DSLR benefits: Better price, superior focusing mechanism, optical viewfinder, tried-and-true construction, and availability of a far wider selection of native lenses
, Nikon's mirrorless cameras are superior. There are benefits and drawbacks to both portraiture and event photography.
Nikon Camera Price In Ghana
The price of Nikon professional cameras in Ghana starts around GHC 5000 to GHC 10,000 depending on the exchange rate and a few other factors.
| | |
| --- | --- |
| Camera |  Price (GHS) |
| Nikon D3500  | 5604 |
| Nikon D5600 | 6539 |
| Nikon D7500 | 8407 |
| Nikon D500 | 14012 |
| Nikon D610 | 14012 |
Nikon D3500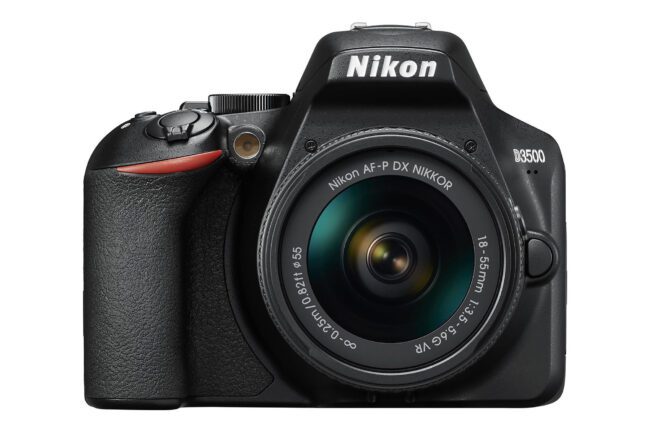 Specifications 
Sensor size: DX

Resolution: 24.2 megapixels

Autofocus points: 11

Frame rate: 5 FPS

LCD type: Fixed, non-touchscreen

Max video specs: 1920×1080, 60p

Battery life: 1550 photos

Control layout: Basic

Memory cards: 1 SD

AF-D lenses: Manual focus only

Weight w/ battery and card: 415 g (14.6 oz)

Dimensions (W×H×D): 124 × 97 × 70 mm (4.9 × 3.8 × 2.8 in.)
Nikon D5600

 specifications:
Sensor size: DX

Resolution: 24.2 megapixels

Autofocus points: 39

Frame rate: 5 FPS

LCD type: Tilt-flip touchscreen

Max video specs: 1920×1080, 60p

Battery life: 970 photos

Control layout: Basic

Memory cards: 1 SD

AF-D lenses: Manual focus only

Weight w/ battery and card: 465 g (16.4 oz)

Dimensions (W×H×D): 124 × 97 × 70 mm (4.9 × 3.8 × 2.8 in.)
Nikon D7500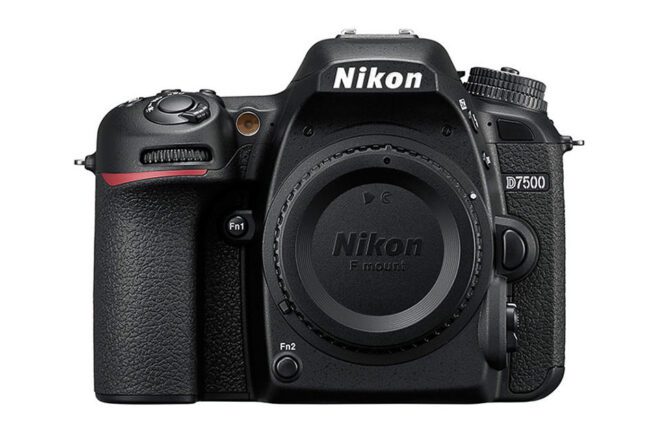 specifications:
Sensor size: DX

Resolution: 20.9 megapixels

Autofocus points: 51

Frame rate: 8 FPS

LCD type: Tilting touchscreen

Max video specs: 3840×2160 (4K), 30p

Battery life: 950 photos

Control layout: Advanced

Memory cards: 1 SD

AF-D lenses: Autofocus compatible

Weight w/ battery and card: 720 g (25.4 oz)

Dimensions (W×H×D): 136 × 104 × 73 mm (5.4 × 4.1 × 2.9 in.)
Nikon D500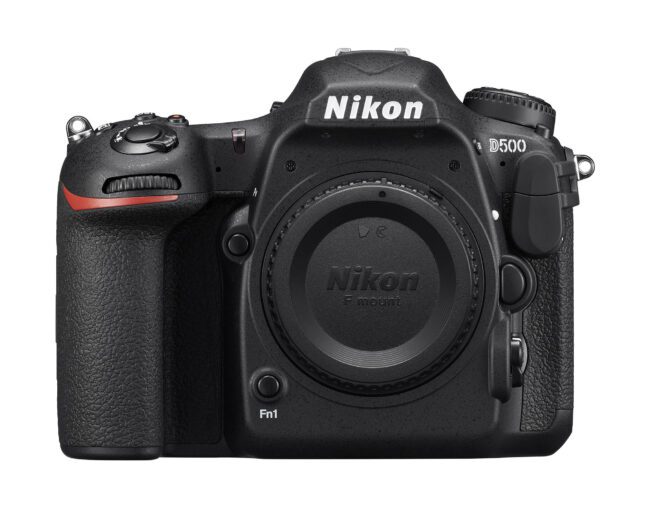 Specifications
Sensor size: DX

Resolution: 20.7 megapixels

Autofocus points: 153

Frame rate: 10 FPS

LCD type: Tilting touchscreen

Max video specs: 3840×2160 (4K), 30p

Battery life: 1240 photos

Control layout: Professional

Memory cards: 1 XQD and 1 SD

AF-D lenses: Autofocus compatible

Weight w/ battery and card: 860 g (30.3 oz)

Dimensions (W×H×D): 147 × 115 × 81 mm (5.8 × 4.5 × 3.2 in.)