Ghanaian Names and Their Meanings. Complete List
If you need the complete list of all local Ghanaian names and their meanings, you landed on the right page. In Ghana, we are very particular about names. Our names carry meanings and therefore form an important part of our culture as a whole.
If you are looking for an amazing name to give your child, you can look through our list to get inspiration.
Structure of Ghanaian Names
Every Ghana has a day born name (kra da din). For example, Monday born males are called Kwadwo. Every Ghana has a first name, surname and other names.

Surnames are mostly that of the fathers given to him/her.

People from royal families are mostly referred to as Nana, Naana, etc.
In Ghana, the day you were born automatically has an assigned name. We call that "day names". Aside that, there are other local names that carry meaning depending on the circumstances that occurred before, during or after childbirth.
Different tribes have different ways of naming their people. We are going to have a look at the names of the people of most of the tribes in Ghana: Ewes, Akans, Gas, and more.
Things to note
Some names are specific to one gender only whiles others can be given to both genders. It all depends on the tribe and their naming culture.
Ghanaian Names and Their Meanings
Akan Names
Name
Meaning
Abrafi
Osei
Boateng
Akomea
Akese
Akrasi
Boakyewaa
Busia
Darbo
Berko
Bediako
Otumi
Akatayie
Amoah
Attigah
Ababio
Quainoo
Apiesie
Osam
Frimpong
Twum
Yiadom
Adaakwa
Ewe Names
Mawuli
Akuvi
Setsofia
Sesime
Mawunyo
Enyornam
Elorm
Klenam
Amenuveve
Grace
Kpodo
Yayra
Deladem
Emefa
Fafali
Dogoli
Agbesi
Dziedzom
Tampo
Dzilla
Mawuko
Ghanaian Day Names
| | |
| --- | --- |
| Name | Day born |
| Kwadwo/Adwoa | Monday |
| Kwabena/Abena | Tuesday |
| Kwaku | Wednesday |
| Yaw/Yaa | Thursday |
| Kofi/Afia | Friday |
| Kwame/Ama | Saturday |
| Kwasi | Sunday |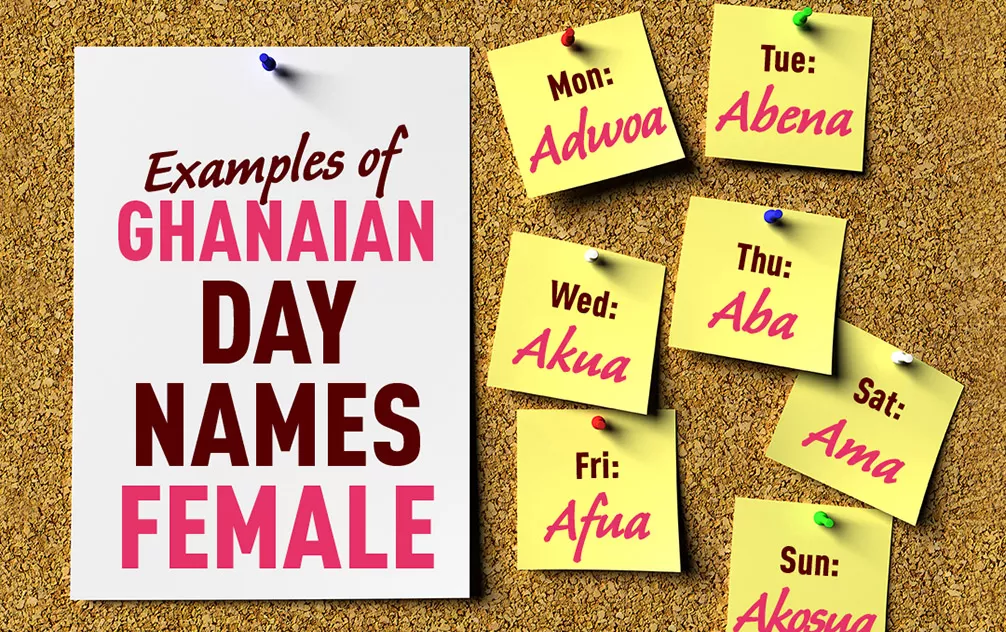 Common English Names (First Name) Given to Ghanaians
Francis

Godfred

Michael

Divine

Phanuel

Emmanuel

Philip

Gloria

Gifty

Grace

Nicholas

William

Agnes

Angela

Princess

Rockson

Benjamin

Bernice

Bismark

Lincoln

Carlos

Cecilia

Celestine

Richard

Richmond

Christian

Joseph

Elvis

Priscilla

Deborah

Dennis

Godfred

Lawrence

Derrick

Godwin