In the German driving theory test, the question; "for what purpose can the horn be used outside of town?", is usually asked. A driver learner is required to answer such a question. You can read further to equip yourself and also get the answer for the above question. Continue reading this article as it will help you learn more.
You are going to be equipped because other German driving theory test questions are also in this article with their correct answers.
German Driving License Topics
As you prepare for your driving license theory test, you are required to have an in-depth knowledge on topics such as:
Basic rules about behavior in traffic
Road use
Speed
Distance
Overtaking
Drive past
Use of lanes by motor vehicles
Turning, turning and reversing
Entering and starting
Special traffic situations
Stopping and parking
Warning sign
Lighting
Railway crossings
Public transport and school buses
Charge
Other duties of the vehicle driver
Behavior at pedestrian crossings and towards pedestrians
Accident
Signs and instructions from police officers
Blue flashing light and yellow flashing light
Alternating light signals and continuous light signals
For what purpose can the horn be used outside of town?
In the German driving theory test, three answer options are given for the question."for what purpose can the horn be used outside of town ?". It is expected of you to choose the right or appropriate answer (s).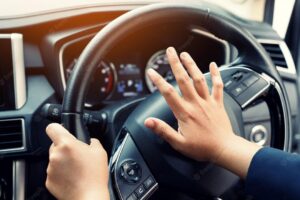 Question: For what purpose can the horn be used outside of town?
Answer:
The horn can be used outside of town as a warning signal
As passing signal. 
Explanation: The horn must be employed to signal a dangerous situation in order to warn other road users. For this reason, it is also imperative not to turn the radio too loud, else you can rapidly miss warning signs from others (road users).
More German Driving Theory Test Questions
Here are some possible questions as you prepare for your driver learner test. Read them and familiarize yourself with them as you are more likely to see them in the driver learner test theory.
1. How should you act if you see a vehicle with hazard lights?
Answer: I reduce my speed and I prepare myself for sudden danger
2. For what purpose can the horn be used in urban areas?
Answer: As a warning signal
3. How do you react if there is a breakdown in a tunnel?
Answer: Switch on the hazard warning lights and Park the vehicle in a possible breakdown bay
4. When driving through a tunnel, you approach the end of a traffic jam. How do you behave?
Answer: Switch on the hazard warning lights