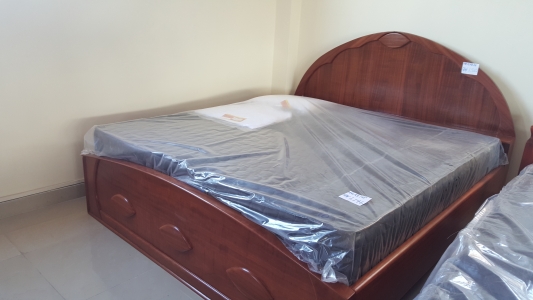 Bed For Sale In Ghana. (Bed Prices In Ghana)
Are you looking to go bed shopping? Then this is the right place to be. In this post, I am going to bring you accurate bed prices in Ghana and also take you through some beds online that are up for sale. 
Imagine returning home from a hard, exhausting day and collapsing into a cosy bed! The sensation is indescribable and best experienced rather than described! So, if a bed is your ultimate resting place, it's only sensible to invest in the greatest one money can buy.
Before going to buy a bed to make sure your money is well spent, these are the factors to consider. 
Important Points To Keep In Mind Before Buying A Bed
Size: First and foremost, ensure that the bed you select fits comfortably in the space. It must be large enough to accommodate you but not take up all of the available areas. A single bed, queen-size double bed, or king-size double bed can be chosen depending on the size of the room and the number of people.
Frame: A bed is an investment that will pay off in the long run. So don't settle for low-cost materials that will shatter or crack in a matter of months. Consider using strong timber frames made of teak, plywood, or even wrought iron.
Purpose: Is the bed solely intended to be used for sleeping or do you plan to make it multi-functional? If so, search for storage bins, cushioned and slanting headboards that are both stylish and comfortable.
Budget: Establish a reasonable pricing range and attempt to stick to it. To get the most out of your money, prioritize quality and functionality before appearances.
Types Of Bed Designs And Their Advantages 
Below are some of the popular types of beds and their advantages:
Conventional Bed: It is a platform bed with a wooden frame and a plank to support the mattress.
Folding Bed: This is a space saver and can be folded when not in use.
Trundle Bed: This is a bed within the bed and is great for children. The pop-up compartments can be opened or closed easily to save space in the room.
Adjustable Bed: The bed has a motor to adjust the height and position of the headboard.
Convertible Bed: This is a bed-cum-sofa, which is lightweight and made with metal. You can convert it into a bed at night and a seating place during the day.
Poster Bed: It is an old-style bed that has 4 vertical wooden or metal posts on the four corners.
Bunk Bed: It is a double or a triple-decker bed with a ladder to climb up and down.
Bed For Sale In Ghana
After scouring through some popular markets in Ghana, below are some beds we found up for sale on the market.
JIJI ONLINE 
Turkish Bed – GHC 1,400.00
1&1/2 Beds – GHC 450.00
Double Bed – GHC 1,300.00
Beauty Rest Bed (Queen size) – GHC 1,700.00
Turkish Bed Queen size – GHC 1,600.00
TONATON
King Jonathan King Size Bed – GHC 2,800.00
Authentic Italian Bed – GHC 1,850.00
Classic Double Bed Frame – GHC 1,550.00
Thank You for reading this post. Don't forget to recommend our site, Ghana insider, to your friends and family who might also profit from the information on our website, and check out our other articles because we have more information to bring to you via your devices.
I believe you have any comments or suggestions to drop about this article, kindly make use of the comment box below and reach us for more discussion.
Ghana insider is on the mission to give you insightful knowledge about anything in Ghana; Latest Entertainment news, General news, insurance, banks, mortgage, Farming, product pricing, food, business, and more.